Lake Exclusive with Carp to 65lb+.
Cheshire Lake is a 7 acre French carp lake which can accommodate up to 6 anglers during any given week.
Cheshire lake is located south of Paris in the North Eastern part of France near the town of Montereau. The lake has beautiful surroundings with the Seine-Marne and the Yonne rivers running parallel to the complex. The lake has 5 Swims (one double) and contains some very large carp, Sturgeon and predators such as Catfish thanks to the natural and rich food supply present such as crayfish and mussels, they're everywhere!
The average carp weight is breathtaking! There are between 100 to 120 carp in the lake. Currently the average carp is close to 45lb. The largest mirror is 65lb and the largest common carp exceeds 65lb+ according to recent catch reports. The lake also hosts a good population of catfish with a record of 2.48m 220lbs, which is probably the record for this species in private closed water. Cheshire lake is not a runs water and is recommended for experienced anglers. If that wasn't enough 2 sturgeon weigh 90lbs each, a beluga sturgeon is a massive 180lbs!
Facilities include well maintained toilets and showers with hot water. There is an area for anglers to store bait and food with fridge and freezers as well as charging points. Most swims are accessible by car.
Food Package
Only 5 minutes from the lake there is a supermarket, bakery and butcher. There is also a pizzeria and they can deliver pizzas to the door of the venue. Fresh bread and pastries are delivered to the lake every day except Wednesday
Gallery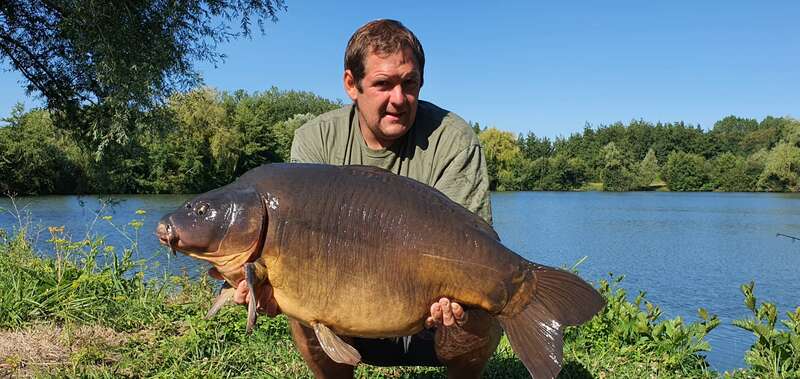 Bait & Tackle
Boilies – 62.50€ (5Kg)
Poppup – 8€
Wafters – 8.70€
Liquids 11.25€
Pellets 29€ (5Kg)
Carpet Feeds 32,80€ (5kg)
Map & Directions
Cheshire lake is roughly 3 hours 50 minutes drive from Calais or 3 hours 35 minutes from Caen. See directions to Cheshire lake from Calais below.
Rules
General Rules
Respect for other fishermen, fish and environment is mandatory.
A deposit (50 euros not cashed) will be requested on your arrival and returned on your departure.
Showers and toilets are available 24 hours a day, 7 days a week. Please keep these places clean. Use of the toilets is mandatory to guarantee the cleanliness of the premises. It is strictly forbidden to defecate at the edge of the lakes. The presence of toilet paper near a post will be charged to the fisherman in the post, who will be excluded immediately.
Respect the tranquility of the fishery. Outbursts of voice, other than those of joy following a good catch, are prohibited.
The management reserves the right to immediately exclude a person from the site, without reimbursement, in the event of suspected drunkenness or consumption of narcotics.
Maximum 2 accompanying persons per night per fisherman, excluding children.
Minors must be accompanied by a responsible adult at all times.
After loading/unloading, vehicles must be parked in the designated parking area.
Swimming is strictly prohibited.
Ground lights prohibited.
Barbecue above ground tolerated. Ashes to be removed after use.
Please collect your rubbish and remove it when you leave. This includes cigarette butts and tea bags.
The movement of cars can be done every day from 10 a.m. to 3 p.m.
Tents and shelters in "natural" color (brown, green or camouflage) compulsory. Blue tarps prohibited.
Baited rods are

not

to be left unattended.
Dogs are not tolerated (unless waived and under the responsibility of the owner.) Dog excrement must be picked up by the owner. If excrement is found, it will be assigned to the nearest post.
Cheshire lake reserve the right to use, as it wishes, all photographs and/or videos taken on the site, and this without financial compensation of any kind for the people or company which could be seen on media, advertisements or internet publications.
Carp Care Rules
Large 42 inch fine-mesh landing net and RIGID FRAME weighing sling is mandatory.
Use of a large unhooking mat or carp cradle capable of protecting a 70lb carp is mandatory.
Mandatory use of pliers to unhook the fish, particularly Catfish.
You must have and use a special fish disinfectant, such as Nash medicarp, to treat the hookhold area and any possible wounds.
Any handling of fish between the lake and the unhooking mat must be done WITH the RIGID FRAME weighing sling. Not in the landing net arms.
The fish must be permanently moistened and returned to the water quickly in the best conditions.
Photos to be taken in the water. Only one person in photo per fish (the fisherman only).
Carp sacks and retainers prohibited.
It is strictly forbidden to mark or mutilate the fish.
Tactics, Tackle & Bait Rules
H-type and floating markers prohibited.
Main line 35/100 th maximum.
Braided main line prohibited.
Nylon or fluro leaders must be a large diameter to protect fish scales during fights. Any leader used must be a lower breaking strain than the mainline. (e.g 18lb main line tied to a 15lb leader)
Anti-tangle (tubing) obligatory for the protection of the fish. (No naked setups.)
Lead-core leaders are banned
Only barbless hooks between size 2 and 6 allowed.
Bent hooks prohibited
Safety bolt rigs such as a lead clip must allow the release of lead.
Cooked seeds, boilies and pellets are authorized baits
Tigernuts are prohibited as loose feed but are allowed as a hookbait.
Baiting with live baits (maggots & Worms) allowed.
Rowing boats are prohibited. (Only bait boats allowed.)
It is strictly forbidden to fish a post from another post. (for example fishing post 2 from post 1)
Fishing with lures prohibited outside of "predator" days or "Lake Exclusive" bookings.
Rules may be subject to change. Please check you fully understand the rules prior to fishing.
Booking & Prices
Bookings are Saturday 14:00pm to Saturday 10:00am.
From £1,250 Lake Exclusive per week.
To check availability or for booking information complete the form below: