Cheap Drive and Survive Carp Fishing in France.
Etang du St Brice is a 7 acre gravel pit set in Brittany, northwestern France. The lake has 6 spacious swims for a maximum of 4 anglers, is 60 minutes drive from the St Malo port and contains carp from 40lb to 50lb+.
Facilities & Information
Originally dug in 1990 as a gravel and granite pit, the lake has undergone a transformation into an exclusive water. The lake bed holds many features, including gullies, granite boulders, deep holes, an island and even an old stream bed. With depths ranging from 3 – 10 feet, a constant fresh water supply these young carp are packing on the weight. The fish stocks are made up of heavily plated mirrors, a handful of fully scaled mirrors, together with a number of very deep bodied Commons. It's estimated the lake contains between 130 – 140 carp with a good head of 30lbs+ fish, along with a select number of carp from 40lb to 50lb.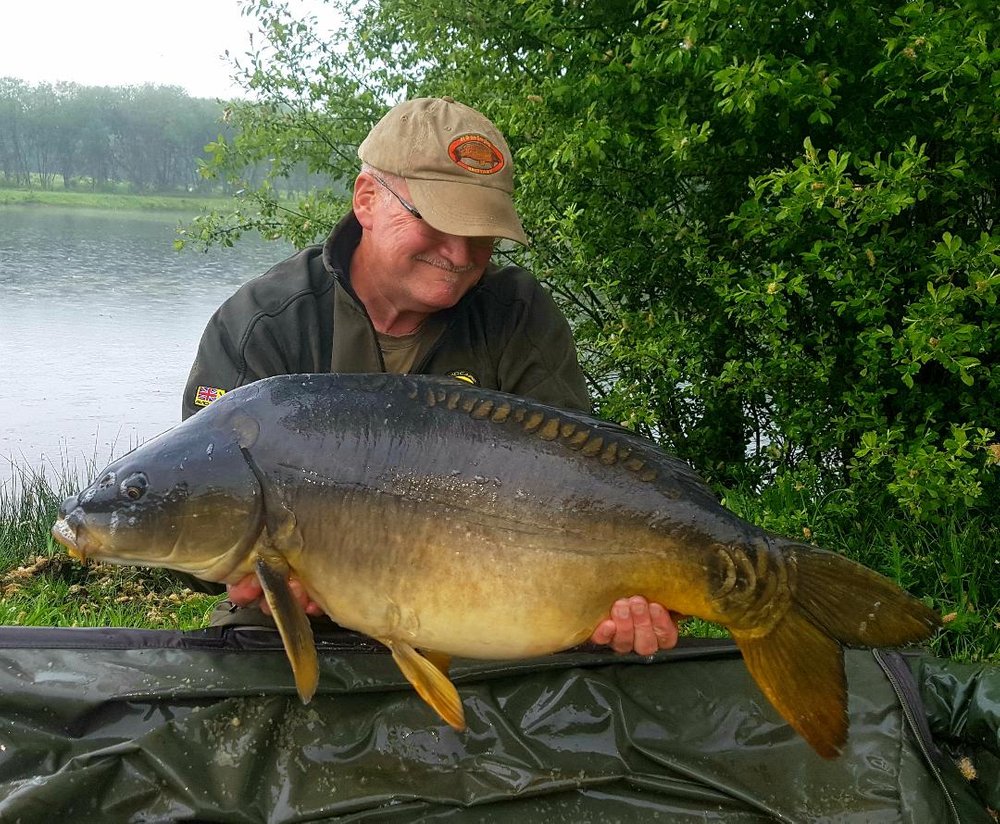 The facilities include toilets, hot shower, bait freezer, electric charging points and drinks cooler with an undercover eating area. There is a 4 birth modern caravan which is popular with guests who like to bring along their partners, girlfriends, wives or the whole family.
Food Package
The food package is available for a minimum of 4 people from £150 per person and is available from Saturday – Saturday. This includes a breakfast baguette with Tea/Coffee delivered to swim and evening meal.
Tackle & Bait
Tackle Hire (Prices per week)
Bait Boat, Fish Finder Echo Sounder with standard mains and solar charger. £100 per week.
Full setup rental – Includes 3 x quality rods & reels with new line, Pod,  Alarms, Bobbins, Bivvy, bedchair, nets & slings. From £150 pounds per week.
Bait
Boilies £8.00 per Kg
Pellet £4.44 per Kg
Parti Mix £2.50 per Kg
Additional tackle hire, bait, food packages and airport transfers are to be discussed prior to your arrival.
Map & Directions
St Brice is approximately 60 minutes drive from the port St Malo, 90 minutes from the port of Caen and 4 hours 53 minutes from the port of Calais. We can also arrange airport transfers from Rennes airport which is approx 30 minutes drive away.

Rules
Rules may be subject to change. Please check you fully understand the rules prior to fishing.
Booking & Prices
Bookings are from Saturday (12 midday) until the following Saturday (9am).
Prices from £225 per person per week.
Lake exclusive from £900 per week.
To check availability or for booking information complete the form below: