Drive & Survive Carp Fishing in France.
Lake Ruby is a 19 acre gin clear gravel pit with carp to 56lb.
Lake Ruby is stocked with approximately 280 -290 carp in total. There's roughly 200 carp at 20lb+, eighty carp weighing between 30lb to 40lb, fifteen carp from 40lb+ to 50lb and three carp over 50lb+ with the lake record currently standing at 56lb.
Facilities & Information
Lake Ruby is a 19 acre gravel pit, set in the heart of the Champaign Region in France near the small village of Martinicourt Goncourt. Approximately 3 1/2 hours drive from Calais, Ruby Lake really is in the ideal location for a french carp fishing holiday venue.
You couldn't imagine the amount hard work that's gone into making this french carp fishery become a reality. There is a full time on site bailiff and the team have really put their hearts and soles into this project. With the modern carp angler in mind from the outset, sizeable swims have been constructed around the lake to ensure maximum comfort during your weeks stay. Want to fish with a pal? Not a problem! Most swims at Lake Ruby can easily host two bivvies or shelters.
With typically 12 anglers fishing per week, you'll certainly get your fair share of water and always have the opportunity to move swims should you wish. The draw for swims is on Saturday at 13:00 (French time). The usual amenities such as kitchen area, toilets, hot shower and washing facilities are all available on site.
Approximately 100 carp were stocked in January 2019, with the largest of the residents now weighing 56lb+. Further stockings of carp of Euro Aqua strain took place during the winter of March 2023 as part of an ongoing stocking program, so it is estimated there are 280 – 290 carp in total. When you consider the natural food larders in Lake Ruby, combined with anglers additional particles, pellet and boilies, it won't be long until these carp are packing on the pounds!
Food Package
The food package is from £140 per person payable upon arrival and is available from Saturday – Saturday.
Gallery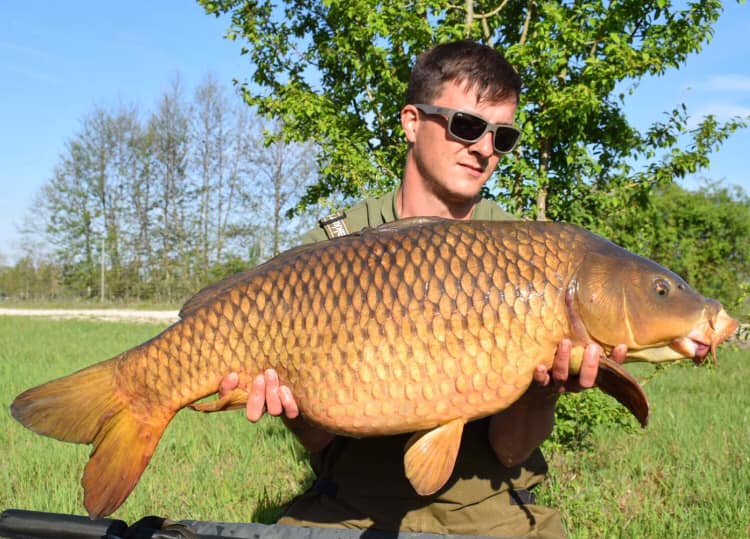 Map & Directions
Here are the directions to Lake Ruby France from Calais.
Rules
Arrival from 12:30pm Saturday
Departure no later than 09:30am Saturday
No Leadcore (Safe Zone Leaders Only)
No Nuts
Barbed Hooks Only
Bait Boat Allowed
Rowing Boats Allowed (€25.00 for the week)
3 Rods Maximum
Rules may be subject to change. Please check you fully understand the rules prior to fishing.
Booking & Prices
Prices start from £225 per person per week.
Lake exclusive is from £1,600 per week.
To check availability or for booking information complete the form below: