Carp Fishing Holidays in Northern France.
Deep Bluu is an intricate pool located in the tranquil countryside of Brittany in Northern France.
Facilities & Information
Deep Bluu lake has 2 swims and is typically fished by a maximum of 2 people on a Saturday to Saturday basis. Each swim has weigh station, cradles, slings, nets and chairs provided by the fishery. The lake has been dug to depths of 14ft to over 20ft in places and has a clay and silty lakebed which is packed with features including bars and deep holes. The lake is stocked with approximately 45 carp in 1 acre and is best suited to the experienced angler looking to catch specimen carp to 50lb+ and catfish to 80lb+.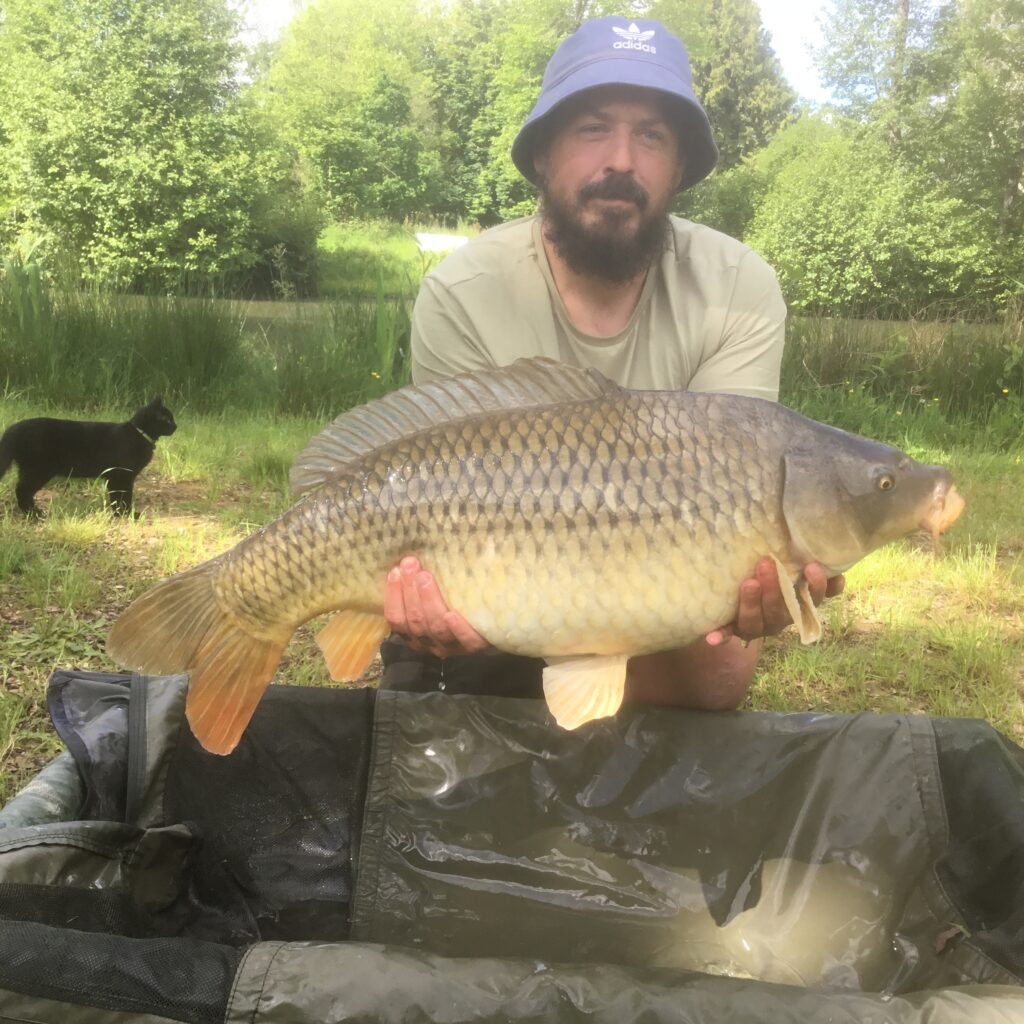 Accomodation
This small but intimate lake houses a waterside sleeping cabin with 2 bedchairs, cooking facilities, electric charging points, bait freezer, toilet and showering facilities.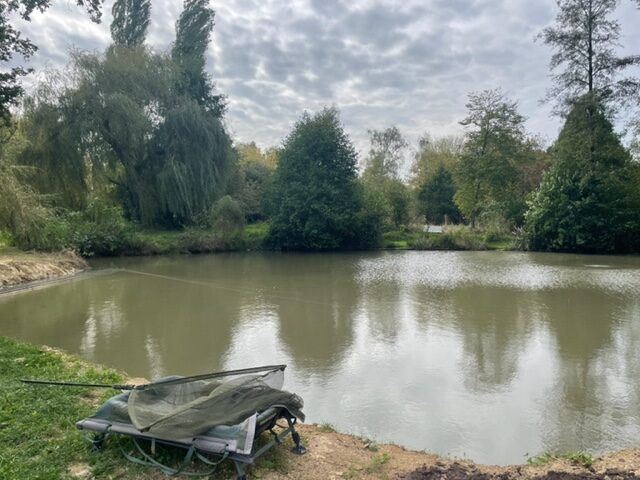 Food Package
A food package is available as an option and there are three food package options to choose from. These are Breakfast only, Half board or full board options.
Breakfast only – from £59.50 GBP per person per week.
Half board, breakfast and dinner – from £168.00 GBP per person per week.
Full board, breakfast, lunch and dinner – from £200.00 GBP per person per week.
Breakfast Menu Example
Full English Breakfast – egg, bacon, sausage, beans, toast with either tea or coffee.
Egg on toast – Either scrambled or fried on brown or white toast with either tea or coffee.
Omelette – a choice of cheese, ham, onions and/or mushrooms with either tea or coffee.
Beans on toast – On brown or white toast with either tea or coffee.
Bacon or Sausage sandwich – On brown or white bread with either tea or coffee.
Lunch Menu Example
Toasted sandwiches – Cheese/Ham/Tuna Mayonnaise.
Vegetable soup with French bread.
Omelette – a choice of cheese, ham, onions and/or mushrooms.
Burger Salad and Fries.
Dinner Menu Example
Evening 1: Cottage Pie, served with vegetables or Stuffed Peppers & Salad
Homemade Rice Pudding
Evening 2: Chicken, Ham & Leek Pie or Steak & Ale Pie or Vegetable Arabiata
Lemon Pudding
Evening 3: Sausage, mash and gravy in Yorkshire pudding or Vegetable Sir Fry
Apple crumble and custard
Evening 4: Gammon, Egg & Chips or Tuna Pasta bake, Chips & Salad
Syrup sponge and custard
Evening 5: Lasagne with Garlic bread or Cauliflower Cheese & crusty bread
Chocolate Pudding with ice cream
Evening 6: Chicken Curry, Naan bread and Rice or Vegetable Korma & Rice
Apple Pie and custard/Ice cream
Evening 7: Chilli Con Carne & Rice or Spaghetti Pesto & Pinenuts
Crème Brulee
Tackle & Bait
Bait is available to purchase on site if ordered in advance.
Tackle hire is available from the lake owner.
House Boilie £ 10.00 per kg
Pellet £ 3.00 per kg
Pop ups £ 7.50
Wafters £ 7.50
Various Oils £ 7.50
Map & Directions
Located in Brittany, Deep Bluu lake is easily accessible from the main ferry ports in France. It is approximately 1 hour 25 minutes drive from St Malo, 2 hours 10 minutes drive from Caen and 5 hours 15 minutes drive from Calais.
Directions to be provided at conformation of booking.
Rules
No keepnets
Provided carp cradles to be used at all times
No barbed hooks
No main line braid
No lead core leaders of any kind
No fixed leads
No Korda goo
Absolutely no sacks allowed at any time without permission
Maximum number of 6 rods in the lake at any one time with a maximum of 3 rods per person
No fish are to be introduced or remove from the lake
Bivvys allowed with permission – No tents
Only the fishery provided landing nets, weight slings and carp cradles should be used
No nuts to be brought into the fishery. Please use Freezer bait and boilies only.
Line over 15lb only when fishing for carp
The booking name is responsible for his/her party and for any damages caused.
The management are not responsible for theft or damage to personal property.
The cutting of trees is forbidden or foliage
Building fires is not permitted, a BBQ is provided
Please use the toilet provided and not surroundings. All litter is to be placed in bins provided.
No swimming in the lake is allowed.
No refund returned for early departures.
Swims must be left clean.
Bait Boats allowed.
Rules may be subject to change. Please check you fully understand the rules prior to fishing.
Booking & Prices
Bookings are from Saturday (2pm) until the following Saturday (10am).
Prices are from £700 per week lake exclusive.
To check availability or for booking information complete the form below: