Carp Fishing Holidays In Thailand.
Palm Tree Lagoon fishery in Thailand is located approximately 2hrs drive from arguably the craziest party capital in the world, Bangkok. If you want to spend your days fishing for 170lb+ Siamese carp and your evenings partying the night away in the various nightclubs, bars and tourist hot spots Thailand has to offer, then you're in the right place.
Facilities & Information
The lake is approximately 3 acres in size and it holds many species of specimen fish including Arapaima to 226kg, Chao Phraya Catfish to 96kg, Mekong Catfish to 137kg, Stingray to 100kg+, Amazon Redtail Catfish to 51kg, Thai Redtail Catfish to 32kg, Wallago Leeri to 65kg, Wallago Attu to 27kg, Goonch to 33kg, Pacu to 23kg and many carp species including Siamese carp to 78kg+, Catla carp to 32kg+, Juliens Golden Price carp to 22kg, Mrigal to 9kg+, and Rohu to 18kg+.
The lake is stocked with 100+ species of fish both predatory and non predatory, with most of the species originating predominately from Thailand, India, China and South America. Friendly guides are available to give advice on angling techniques and help with the netting and photographing of your catches.
Gallery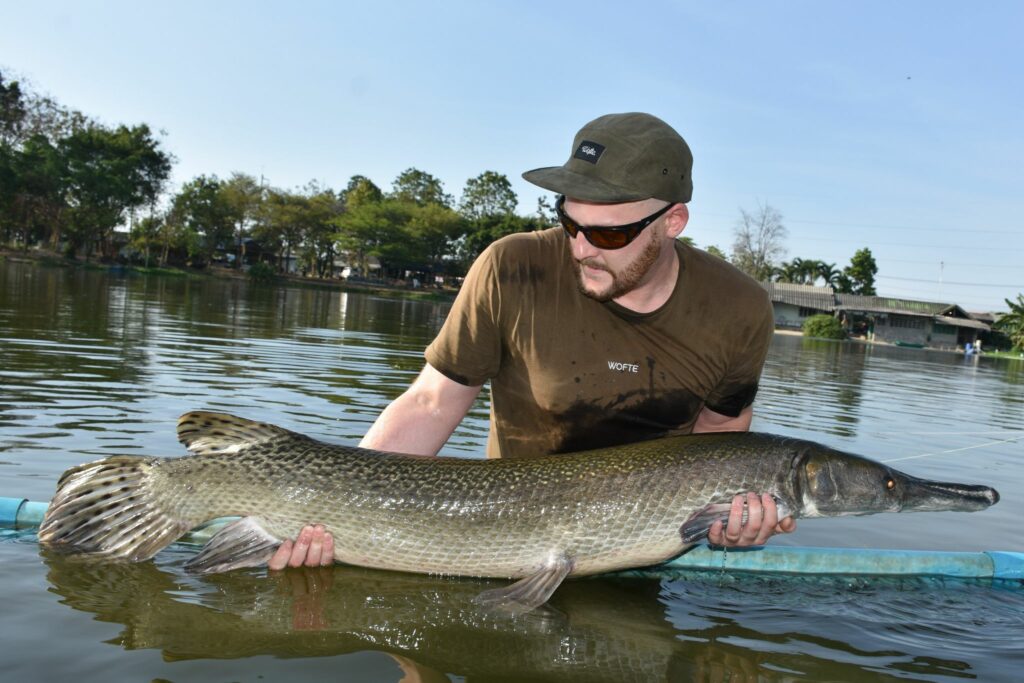 Food Package
Various food and drink options available at Palm Tree Lagoon. Dishes available are spaghetti carbonara, beef steak with sweet pepper sauce, BBQ pork ribs, BBQ spare ribs, grilled sirloin steak with chili sauce, grilled pork ribs with honey, chicken Thai green curry, fried squid, fried shrimp, spicy fried duck, spicy chicken tom yum, spicy chicken curry, Thai chili duck, sweet and sour chicken, pork or prawns, pork fried rice, prawn fried rice, sticky noodles with pork shrimp or seafood and salad.
Drinks available are Heineken beer, Leo beer, Singha beer, Schweppes, Gatorade, Pepsi and Soda water.
Tackle & Bait
Rod and tackle hire is provided as well as a reasonable amount of bait, full time guide and transfers from the lake to the Western Grand Hotel / Prawapa Hotel / Space 59, or Ratchaburi bus station, railway station or minibus drop off point.
Additional bait charges:
Extra pack chicken + deadbait from £9.50
Extra lum/bread mix from £7.00 per bowl
Airport Transfers
Bangkok airport is the nearest airport to Palm Tree Lagoon. A taxi from Bangkok airport to Palm Tree Lagoon is approximately £50 for a maximum of 4 anglers.
Map & Directions
The lake is located in Ratchaburi less than 2 hours drive west of Bangkok and 1.5 hours north of Hua Hin.
Rules
Palm Tree Lagoon fishing park is open for fishing between 08:00 am and 08:00 pm
Only bait supplied by by Palm Tree Lagoon fishing park is to be used, unless you guide gives you permission to do so. Generally we allow commercially sold baits by recognised brand names, NO home made baits are allowed.
No artificial bait is allowed.
No treble hooks, multi-hook rigs, stainless steel hooks, heavy gauge hooks, or circle hooks are to be used.
No back leads, rig tube, snap fasteners, or leads weighing more than 1.5oz/40grams.
No lure fishing is allowed.
All hooks must be barbless or have their barbs flattened. We will be checking.
Predator rig hooks must not be larger than 5/0(19) or smaller than a 1/0(15) to minimise damage to the fish.
Carp rig hooks must not be larger than 1/0 (15) or smaller than a 1 (13) to minimise damage to the fish.
No wire traces are to be used, when fishing for predatory species all hook-links must be made from a suitably strength nylon 12″ – 18″ in length (30-45cm) and not from braided line.
All static rods must be used with bite indicators or floats.
Carp / Predator / Mekong rods need to be sufficiently strong to handle larde fish, 40-80lb class, 4.5-6.0lb test curve, NO boat rods. Minimum rod length 7′ 6″ to a max of 10′ 6″.
No sliding leads are to be used as these can cause the line to twist around them and break on the strike.
NO free lining bait for predators, and all slack line wound in, and the fish not to be allowed to run any distance with the bait prior to striking, to try and avoid deep hooking, and no double striking.
Float fish bait must not be fished more than a metre over depth to try and avoid deep hooking.
Carp fishing hook links must not be more than 200 mm between the hook and feeder, to try and prevent deep hooking, and must be made from 50-80lb strength braid and not from nylon line.
You are welcome to use your own tackle but it must be suitably and spooled up with a minimum of 65lb braid for carp species and 80lb braid for predators, we do not allow nylon line.
Fly fishing is not allowed.
Do not play the fish too hard or too soft. We will be checking drag settings to avoid this. Do not strike fish too hard or more than once; a single firm strike is enough to set the hook.
No swimming or wading – only enter the water for the purpose of being photographed with your catch.
No litter to be left at any time including cigarette ends. Use the litter bins provided
Do not use the boats under any circumstances.
No retaining of fish of any size or species will be tolerated. Palm Tree Lagoon is strictly a catch and release fishery.
No fires including barbecues.
Do not leave rods unattended at any time, also additional rods must be reeled in when playing a fish or when another angler has a big fish on that it likely to pass through your swim.
Rules may be subject to change. Please check you fully understand the rules prior to fishing.
Booking & Prices
The lake is open to fishing from 08:00am to 08:00pm all the year round.
Bookings are available on a 1 – 2 day, 3 day or 7 day basis.
Prices start from £130 per day.
To check availability or for booking information complete the form below: