Drive and Survive Carp Fishing in France near Calais.
Pegasus Lake 2 is a drive and survive carp fishery located in the Champagne region of France at roughly 3.5 hours drive from Calais.
Facilities & Information
Pegasus Lake 2 is a 32 acre gravel pit which was dug around 2007 and has everything you'd expect from a gravel pit lake including depths ranging from 8-12 feet and features such as gravel bars, plateaus, hard spots, weed and some siltier areas.
There are spacious swims with vehicle parking available behind your swim. There's also the option to park in the car park.
It's estimated the total stock of Pegasus Lake 2 is between 1,200 – 1,300 carp. During the winter of 2022 there were approximately 250 carp stocked from 18lb – 30lb+. The lake record is currently unknown.
An extensive feeding program has been carried out since the carp were stocked, this is proving to be a great success as all carp that are being caught currently are up in weight, in immaculate condition and are unbelievable hard fighting fish. Currently the lake shows no signs of cat fish, Poisson chat or cray fish presence.
A draw will take place when you arrive at the lake and will be done fairly by means of pulling a number out of a hat.
Gallery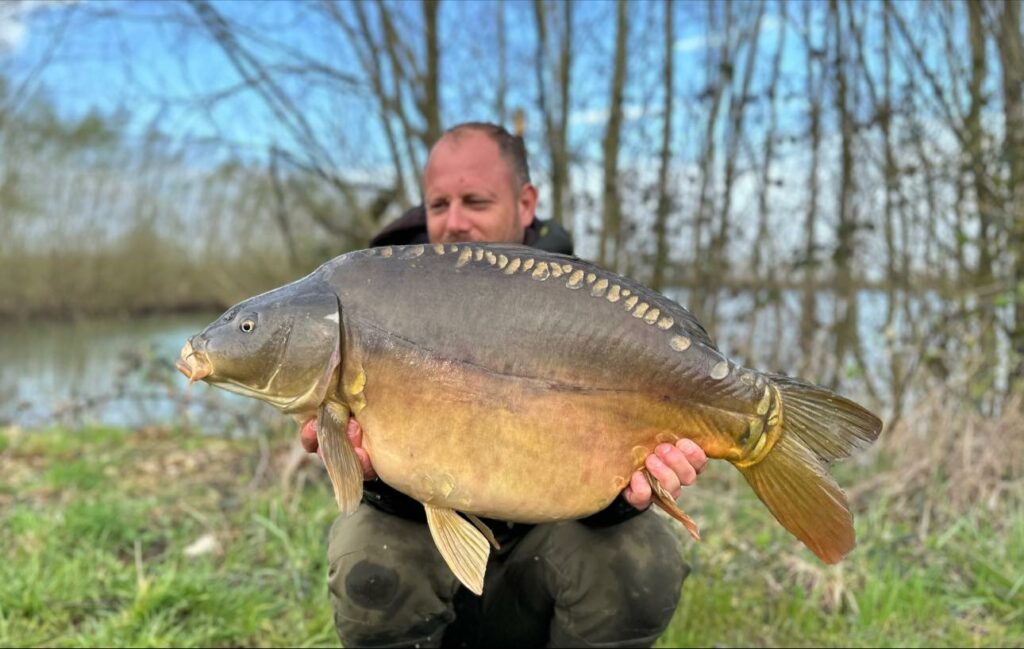 Food Package
There is no food package available at this venue. However the lakes are only 13km away from the beautiful town of Vity-le-François where there's a variety of restaurants and hotels, from Pizzerias, Tabacs, traditional French bakers, fast food outlets. There are also a number ofsupermarkets including Lidl, Aldi, SuperU and LeClerc within 10 miles of the lake.
Bait & Tackle
We sell maize, crushed maize, wheat, and top quality pellet also a top quality named boilie. If you would like to order any bait, please let us know a 7 days before your arrival and it will be ready for you when you get here.
Map & Directions
Rules
Firstly we want everyone that visits Pegasus lakes to have a good time, in order for this to happen please make yourself familiar with our rules:
Respect
Respect the venue
Respect the Fish
Respect each other
Landing nets Retainers and cradles will be supplied.
No unattended Rods
Maximum 4 rods per person
No braided mainline
No lead core (tubing and safe zone leaders are allowed ie the Korda ones)
No plastic fake baits
micro barbed hooks
Bait boats ARE allowed
Rowing Boats ARE allowed to feed up but not to place the rig.
Life jacket MUST be worn every single time on a boat no excuses.
No sacking of fish
100% use the Toilet at all times
No open fires or BBQs
No cutting of trees or vegetation if needed ask me and I will gladly sort.
Litter please leave the area nice and tidy
Dogs are allowed but must clean any mess up. *if you bring your dog we will gladly organise at our vets to have the worming tablet and pet passport stamped*
Please do not move fish between lake 1 & 2
Rules may be subject to change. Please check you fully understand the rules prior to fishing.
Booking & Prices
Prices from £250 per person per week.
To check availability or for booking information complete the form below: