Lake Exclusive Carp Fishing Holidays in France.
Lac du Marne is a mature tree lined 40 acre lake and holds approximately 400 carp to 60lbs.
Facilities & Information
Lac du Marne is just over 3 hours drive from Calais and is available for exclusive bookings. The lake has 2 swims and can be fished by 2 anglers. All swims have lots of room for the anglers and are flat with wood chip covering the ground and include a picnic table. A short walk from the lake are hot showers, toilets.
Lac du Marne is approximately 16-hectare (40 acres) in size and offers anglers a unforgettable fishing experience. Zodiac boats are available to hire at £10.00 for 24 hours. The boats are ideal for locating spots and baiting up. Crayfish and water snails are present in the lake.
During the winter of 2023 there were approximately 400 carp stocked ranging in size from mid doubles to 22lb. This was a welcome injection of new fish to supplement the existing stock, some of which already weigh up to 60lb+.
Due to the size of the venue and the low stock of approximately 10 fish per acre this is not a lake for beginners. If you are an experienced angler looking for a challenge, tranquility and a breathtakingly natural environment then Lac du Marne is for you.
There is secure parking at the bailiffs house. Your fishing equipment is transported to the lake using a quadbike and trailer meaning there's no need to barrow your gear to the swims.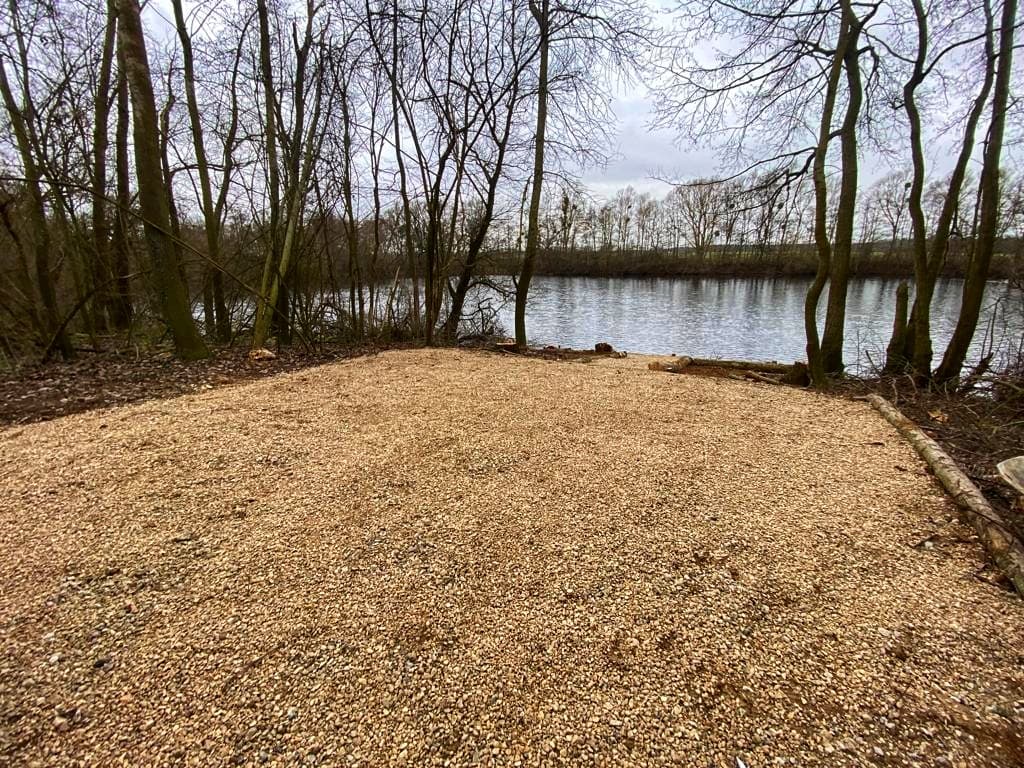 Rules
You must arrive no later than Saturday 18:00pm
Departure is Saturday 10:00am
Vehicles are only permitted to drive around the lake between 08:00am and 18:00pm
Children must be with an adult at all times
Dogs must be kept on a lead
No fires, BBQ and gas stoves are permitted
Drink alcohol in moderation
No drugs
Keep the swims clean and tidy
Maximum 4 rods per angler
Bait boats are not allowed
When unhooking and handling fish you must use a mat or cradle
Do not leave rods unattended
H blocks and marker floats are allowed
No long shank hook pattern, bent hooks or hooks larger than a number 4 size.
Hired Zodiac boats are allowed and a life jacket must be worn at all times
Rules may be subject to change. Please check you fully understand the rules prior to fishing.
Map & Directions
Bait & Tackle
Boilies and a mixture of particles can be bought on site. Please pre-order before your trip.
Boilies 40 € per 5 kg
Particle 1.5 € per kilogram
Pellets 2 € per kilogram
Food Package
There isn't a food package at Lac du Marne however the lake owner will go to the supermarket for customers twice a week to enable you to maximise time at the lake should you wish.
Booking & Prices
Bookings are from Saturday (10am) until the following Saturday (10am).
Prices are from £200 per person.
To check availability or for booking information complete the form below: