French Estate Lake With 60lb+ Carp.
Le Glandon is set in the Burgundy region of east-central France and has roughly ninety carp over 40lbs, twelve over 50lb and three known 60lb+.
Facilities & Information
The stock of carp is simply incredible and arguably one of the best big fish waters in France. There's an estimated one hundred and thirty fish over 35lbs. Of which ninety are over 40lbs, twelve are 50lb+ with three known 60lb carp. The lake has produced a 76lb 15oz mirror carp in the past, which is the current lake record. The lake is approximately six hours drive from Calais, is 12 acres in size and resembles an old English estate lake. With a maximum of 10 anglers fishing during any given week and 18 swims to choose from there's plenty of water for all.
There's a dining loge located near one corner of the lake, which is based on a small "English country pub. This is where the English breakfasts and two course evening meals are served. The food package is included in the price. Other features include a log fire for the colder weeks and a bar. We have plenty of freezer space for all your baits, UK sockets for charging your mobile phone; bait boat, camera. There is an English toilet and hot shower facilities.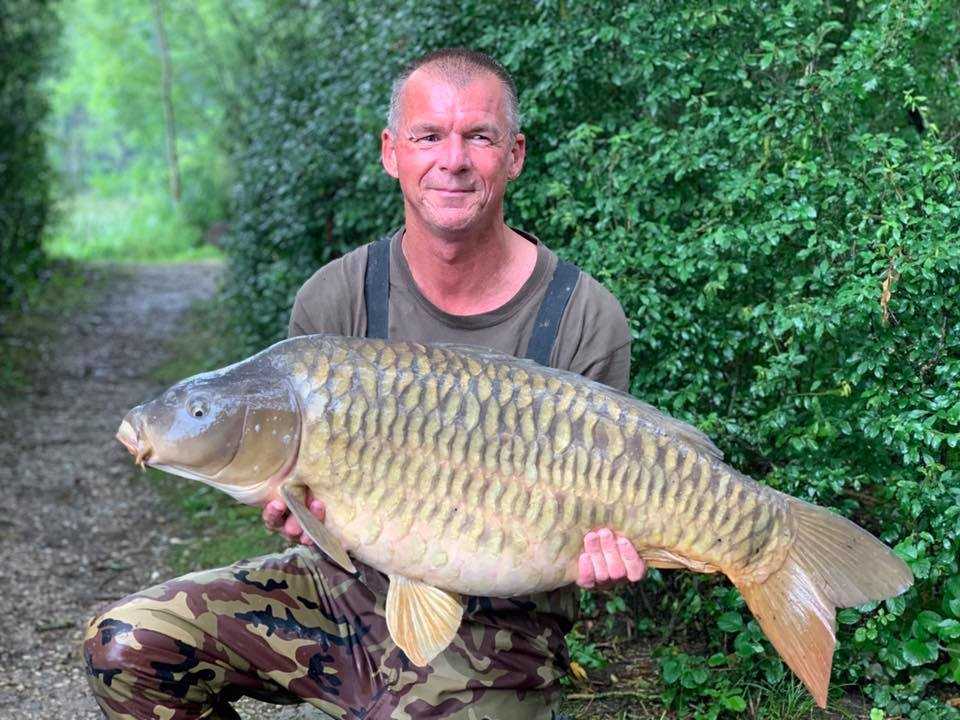 Food Package
The food package is included in the price for your weeks fishing. The fixed meal times are 09.30 am for breakfast and 18.30 pm for dinner.
Breakfast: Scrambled egg, fried egg, sausage, bacon, baked beans, rosti potatoes, fried slice plus as much toast and jam as you can eat. And, of course, unlimited amounts of tea and coffee. Cereal or continental breakfasts are also available on request, as are poached eggs or any other variations of the "English" breakfast as long we are asked during the dinner of the previous evening. We can provide Breakfast rolls delivered to your swim. (Let us know the evening before.)
A full and traditional Sunday roast dinner, consisting of: Fillet of pork, lamb or turkey with roast potatoes, Yorkshire pudding, a selection of farm fresh vegetables,, and home made gravy
A variety of main courses including:
Crispy Chicken
Traditional Lasagne
Best Pork Chops with a caramelised topping
Boeuf-Bourgignon (Burgundy's own, world famous, recipe)
Curry or chilli-con-carne and many more…
Deserts including: Lemon cheesecake, Banoffee pie, Apple or mixed fruit crumbles and many more..
Rules
BAITS:
1. No nuts of any kind.
2. No shelf life boilies.
3. No maggots to be used between 15th March and 15th October.
(We would take this opportunity to recommend the use of the DNA Baits "S7" as these are fed to the fish in vast amounts over the course of the season and are accepted by our stock as a "natural" food source)

RIGS:
1. No hooks smaller than size 4.
2. No fixed or tether rigs of any kind. (Checks will be made during your stay.)
3. No lead clips. (Running rigs or naked chod/helicopter rigs are fine, …..but must be fished WITHOUT a top bead)
4. No in-line leads.
5. No back leads. (Captive back leads fixed to the bank are fine,)
6. No leaders of any kind. (This includes the "safe zone" types)
7. No uncoated braid hook links.
8. No bent hooks or long shank curved hooks.
9. Minimum 15lbs (0.35mm dia) breaking strain main line. No braid mainline under any circumstance.

GENERAL:
1. Baitboats are allowed, but must only be used within the water confined for each swim. Anyone found using one in another swim's water, will be asked to leave.
2. No other types of boats are to be used.
3. No dogs.
4. Swims must be kept tidy at all times to prevent rubbish being blown into the lake. It is also rubbish and beer spillage (empty bottles left laying around) which attract mice and rats.
5. Lakeside trees and vegetation must not be damaged.
6. No sacking of fish under any circumstances.
7. No open fires.
8. Three rods maximum per angler. Rods must not be left unattended at any time.
9. All anglers must have at least 42" landing net and a good quality weigh/retainer sling.
10. No fish to be kept in slings/retainers for more than 15 minutes MAXIMUM
11. The aeration system pipes run along the centre of the lake. NO casting beyond the boundary of your chosen swim. This also applies to casting into adjacent swims that are not occupied. By keeping within the bounds of your own swim, will enable other anglers more choice around the lake.
12. All fish that look to be on, above or near to fifty pounds to be kept in the water for all unhooking, checking, weighing and photographing. We have been doing this with the new cradles for a while now and it's the only way to ensure their safety.
13. Bicycles not permitted on our land.

Whilst we do not wish to be any kind of "killjoy" we must ask for everyone to be sensible with their alcohol intake. We are proud of the condition of our carp and know how difficult they can be, to control in the cradle, in broad daylight while stone cold sober. In the middle of the night while under the influence of alcohol they would be impossible to look after properly. That is not to mention the danger that you put yourselves in while being drunk on the banks of any lake. In order to avoid any misunderstanding we will ask anyone who appears to be inebriated to not fish for that night and to start fishing again after breakfast the following day. Anyone who does not abide by this request will simply forfeit the remainder of their holiday and will be asked to leave immediately.
Rules may be subject to change. Please check you fully understand the rules prior to fishing.
Map & Directions
Here are the directions to Le Glandon France from Calais.
Booking & Prices
Prices start from £580 per person per week.
Lake exclusive is from £5,800 per week.
To check availability or for booking information complete the form below: