Exclusive Drive and Survive Carp Lakes in France.
Echo Pool contains approximately 14 carp over 50lbs with four fish over the 70lb mark!
Echo Pool is an exclusive drive and survive carp lake in France with one of the best stocks of big carp per acre you're ever likely to come across!
The main fishing lake at Echo Pool contains at least 14 carp over 50lbs with four fish over the 70lb mark! The lake also contains plenty of 20's, 30's and 40's with several stunning heavily scaled carp.
However, don't think that because it's a small lake the fish will be easy to catch. Year on year these big carp are getting crafty, having seen all types of presentations they are becoming increasingly elusive. Therefore, we recommend Echo Pool to the more experienced carp angler, someone who's looking for a challenge!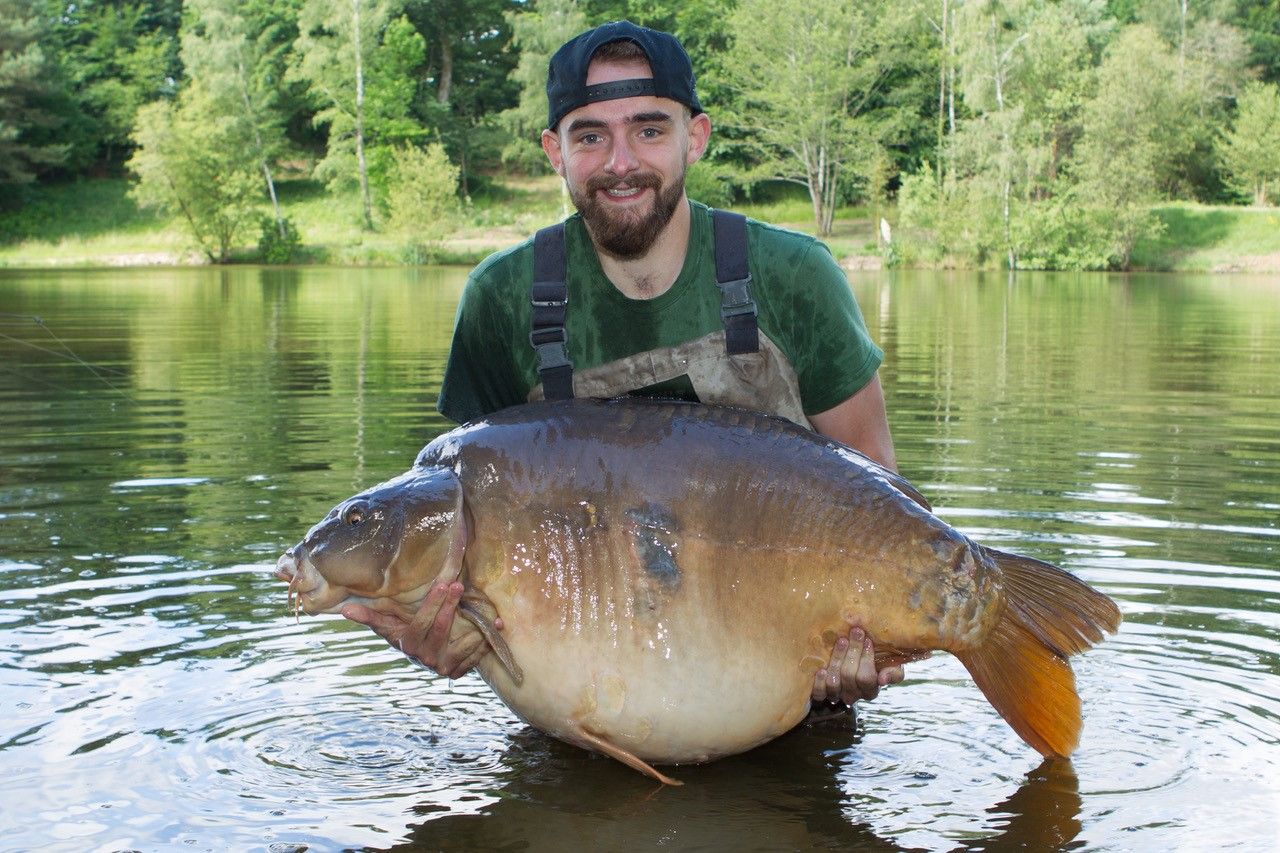 Facilities & Information
The lake is 2.5 acres in size, was dug around 60 years ago and has depths ranging from 4ft – 12ft. This natural looking French water is a spring fed pool, so there's a constant flow of water into and out of the fishery. Combine that with Tasha and Andy's dedicated fishery management, and you've got what can only be described as an ideal habitat for carp. It's probably the reason why these fish have grown so big in such a short space of time!
Most of the carp were introduced as doubles and low 20's back in 2007. The biggest of these weighed 33lb. No further stock has been added since, so those original carp have grown naturally to the sizes they are today.
There's a small cabin on site with tables and chairs provided. This gives shelter from the sun or rain and is an ideal area for cooking, eating and socialising. A small freezer and electricity with 24o volt English sockets can also be found at the cabin. A compost toilet, warm shower and washing facilities are a short stroll away from your swim.
Echo Pool is a self catered venue with several supermarkets are no more than a 10 minute drive away. Bait and pellet are also available to order if you let Tasha know before your arrival.
Map & Directions
Here are the directions to Echo Pool from Calais.
Rules
Rules may be subject to change. Please check you fully understand the rules prior to fishing.
Booking & Prices
Prices are from £1,580 on a lake exclusive basis. A maximum of three anglers can fish at any one time, so if you split the costs between you it works out at £527 per person.
To check availability or for booking information complete the form below: