Private Carp Lakes in France.
Brothers Lake was dug in the 1950's and is situated in central west France, nestled in the rolling hills of the Limousin countryside.
Facilities & Information
The lake covers an area of 5.5 acres and is stocked with approximately 150 carp with the lake record currently standing at 70lb 4oz. The lake bed is composed of clay and sand, with a few areas of silt and no snags. Depths range from a couple of feet at the inlet end to around twelve feet at the dam end. The banks have been planted with a great variety of trees, shrubs and wild flowers including Willows, Birches, Common and Italian Alders, Pines, Broom, Iris and Purple-loosestrife. A natural spring which runs year round feeds the lake via a stream, providing a good, constant supply of quality water.
We have five spacious swims to choose from, so even with the maximum of four anglers present there is always 1 swim available to move to. Each swim is large enough for a bivvy, rods and an unhooking mat, making life easy for the angler. For those who angle stealthily, the fish can be caught from just a few feet off the bank, especially during the hours of darkness. There are no nuisance species and the crayfish will pose little or no problems while you enjoy your week of carp fishing in France.
The owners have worked tirelessly to source and grow on some truly stunning looking fully scaled, heavily scaled and linear mirrors. Each and every fish stocked has been hand selected from thousands, and from numerous sources, with the majority being stocked at just a few pounds in weight. By approaching the stocking in this way we have been able to grow on a very varied and unique looking stock of healthy young carp, in an effort to provide anglers with a head of fish unlike any other small water carp lake in France.
The lake was purchased in 2014 with the intention of creating a unique and intimate carp fishing venue and opened for it's first full season in 2019. Brothers Lake is not a runs water and instead, has been carefully stocked to ensure the fish continue to steadily increase in size without the biomass becoming too large and necessitating the use of unsightly aerators to supplement their oxygen intake.
Following a recent lake netting, Brother Lake's fish stocks are estimated at one 66lber, five 50's, thirty 40's, forty five 30's and fifty 20's. The fish are still growing well with average growth rates of around 4lbs per year although some fish continue to do 7-8lbs per year. The bulk of the stock currently weighs between 20lbs and 50lbs but with our ongoing programme of introducing a few babies every two to three years, this carp lake will always include a few fish under 10lbs in an effort to keep fish coming through for the future.
Brothers Lake relies solely on an off grid system to provide anglers with basic but ample facilities for use during their stay. Solar panels provide power to the cabin for a bait fridge, lighting and USB charging point for mobile phones or tablets. There is also a toilet, hand basin and hot shower heated by a gas boiler.
The taps are operated by push button design fittings which prevent them being accidentally left running. The lighting is also set up on movement sensors to avoid lights being left on and draining the power.
There is an outside social seating and BBQ area in front of the cabin for your use. You may also park on this gravelled area, especially if it's wet during your stay. Vehicles cannot be driven around the lake, however there are two wheelbarrows available to help get your carp fishing kit to your chosen swim.
Gallery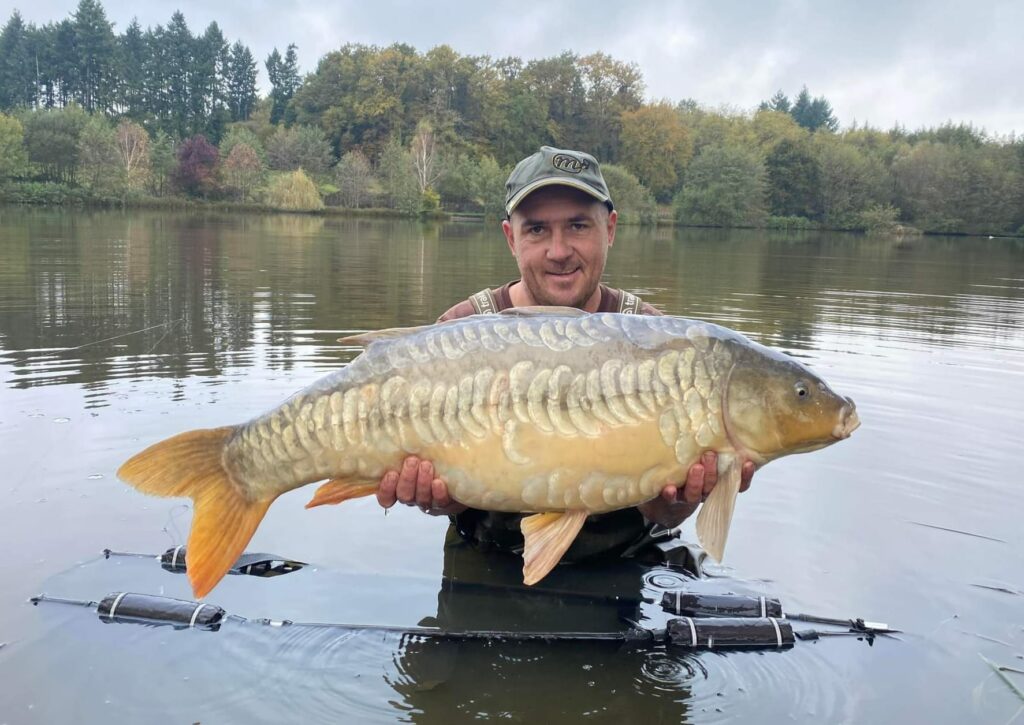 Food Package
There is no food package available at this venue.
There is no drinking water at Brothers Lake however guests are provided with five litres of bottled water on arrival so that you have some to start your week. The nearest shops to buy more bottled water from are less than ten minutes away in the local town.
The local town is ten minutes away and has everything you will need. There are two large supermarkets both with fuel stations and a further two or three smaller convenience stores. The town also has two or three bar tabacs and plenty of smaller shops such as bakeries and butchers shops. Should you need it there is also a pharmacy and hospital in the town centre.
Map & Directions
Brothers Lake is situated in central west France, nestled in the rolling hills of the Limousin countryside. There are various routes and ferry ports that can be used to reach us, and the cost of the ferry and motorway tolls varies between each route.
Address: Brothers Lake, 87000 Saint-Junien, France.
Rules
Brothers Lake rules are incredibly important for the welfare of our unique stock, and our carp lake. Each angler will be required to read and sign a copy upon booking. Please be aware there are no second chances or warnings. If any member of your booking breaks the rules, we reserve the right to terminate your carp fishing holiday for the whole group with no compensation or refund.
Fishing Rules
MAXIMUM of three rods per angler
No braid (except for marker and spod rods)
No leaders of ANY description, no knots in main line
No leadcore
No plastic baits of any description.
Anti tangle tubing MUST BE USED. A minimum of 18 in (45 cm) has to be used on all rods. As we have so many fully and heavily scaled mirrors, this helps to prevent their scales from being lifted.
No bait boats, rowing boats or any inflatables
Microbarbed hooks ONLY
No bent hooks
Semi fixed lead setups only, lead must drop easily (each angler will be checked during your stay)
No shelf life boilies, fresh freezer baits only.
No pellets or nuts. You may use small particles if prepared correctly (MAX 10KG PER ANGLER) . Our pellets can be bought at the lake, do not bring your own. Pellets are not included in your 10KG particle allowance.
Carp care antiseptic must be carried by every angler. We prefer the use of NT Labs Propolis.
You can stalk if you wish with ONE rod, however do not damage bank side vegetation in the process and other rods in your swim MUST be wound in.
No fishing areas. You may not fish from the Dam wall bank or behind any roped off areas.
No sacking of fish. You may keep fish in a retainer for a MAXIMUM of TEN minutes to prepare weighing and camera equipment.
DO NOT MOVE FISH FROM THE GRAVELLED SWIM AREA. All weighing and photography must be done within the confines of the swim, alternatively in the water. We will not tolerate fish being carried or moved around up the bank for any reason.
All fish over 40lb must be weighed and photographed in the water. Please bring waders with you.
No rods to be left unattended.
Minimum 42″ landing net. MUST BE 100% DRY. Do not bring wet nets onto the fishery.
ZIG rigs are now banned altogether.
General Rules
Please do not arrive before 1pm on day of arrival. You must be off site at 10am on day of departure. If you are early you are not permitted to wait at the gate as you will block the track for the farmers. If you are due to arrive before 1pm there are facilities in the local town.
No drugs, alcohol in moderation
NO GLASS BEER BOTTLES. All beer should be in cans; only wine bottles and cooking sauces etc. are acceptable in glass. This is due to the strict recycling rules and the fact we don't benefit from refuse collection.
Do NOT leave litter or food waste in your swim, this includes cigarette butts. Please use an ashtray and then discard in the bin.
No fires whatsoever. BBQ only in the social gravel area in front of the cabin not in swims.
No using the banks or surrounding land as a lavatory
OTTER GATE – DO NOT LEAVE IT OPEN, EVER! Shut gates at all times. Never leave the gate open or unlocked, even for short periods.
Please keep the facilities clean during your stay, and as you found them on arrival.
Please respect the locals and drive slowly down the track to and from the lake.
No dogs
Failure to comply with the rules after signing a copy to confirm you understand them will result in the loss of your security/breakages deposit.
A 50€ deposit per person is payable on arrival in case of breakages of facilities, equipment or rules.
Our mats and slings must be returned at the end of your stay to where you collected them before deposits are returned.
Refuse and Recycling
There are three different bins provided.
Bin 1: GLASS CANS/TINS (please crush cans down)
Bin 2: PLASTIC BOTTLES/CONTAINERS CARDBOARD (please crush plastic bottles down)
Bin 3: GENERAL/FOOD WASTE IN BIN LINERS. Do not put waste into bin 3 without a bin liner.
Rules may be subject to change. Please check you fully understand the rules prior to fishing.
Booking & Prices
Prices are from £1,300 on a lake exclusive basis. A maximum of four anglers can fish at any one time, so if you split the costs between you it's £325 per person.
A refundable security/breakages deposit of 50€ per person is also payable on arrival.
To check availability or for booking information complete the form below: