Carp Fishing Holidays in France with Accommodation & Swimming Pool.
Les Croix offers a unique stock of big carp to 70lb, luxury lakeside accommodation and a swimming pool.
Facilities & Information
The lake holds approximately 100 mirror carp and 40 common carp, with over 50% of the stock weighing in excess of 40lbs. There are at least 15 different fish in excess of 50lbs and several specimens are 60lbs+ going up to 70lbs. The fishing can be moderately difficult at times, however the size and quality of the fish means that even if just a few fish are feeding, there is a very good chance of catching something special during your trip.
In order to have pristine conditioned fish that are catchable in daylight there is a restriction on the hours of fishing from 06:00 to 22:00. This takes the pressure off the carp, and has ensured that they continue to feed well in daylight as they are not being pressured around the clock.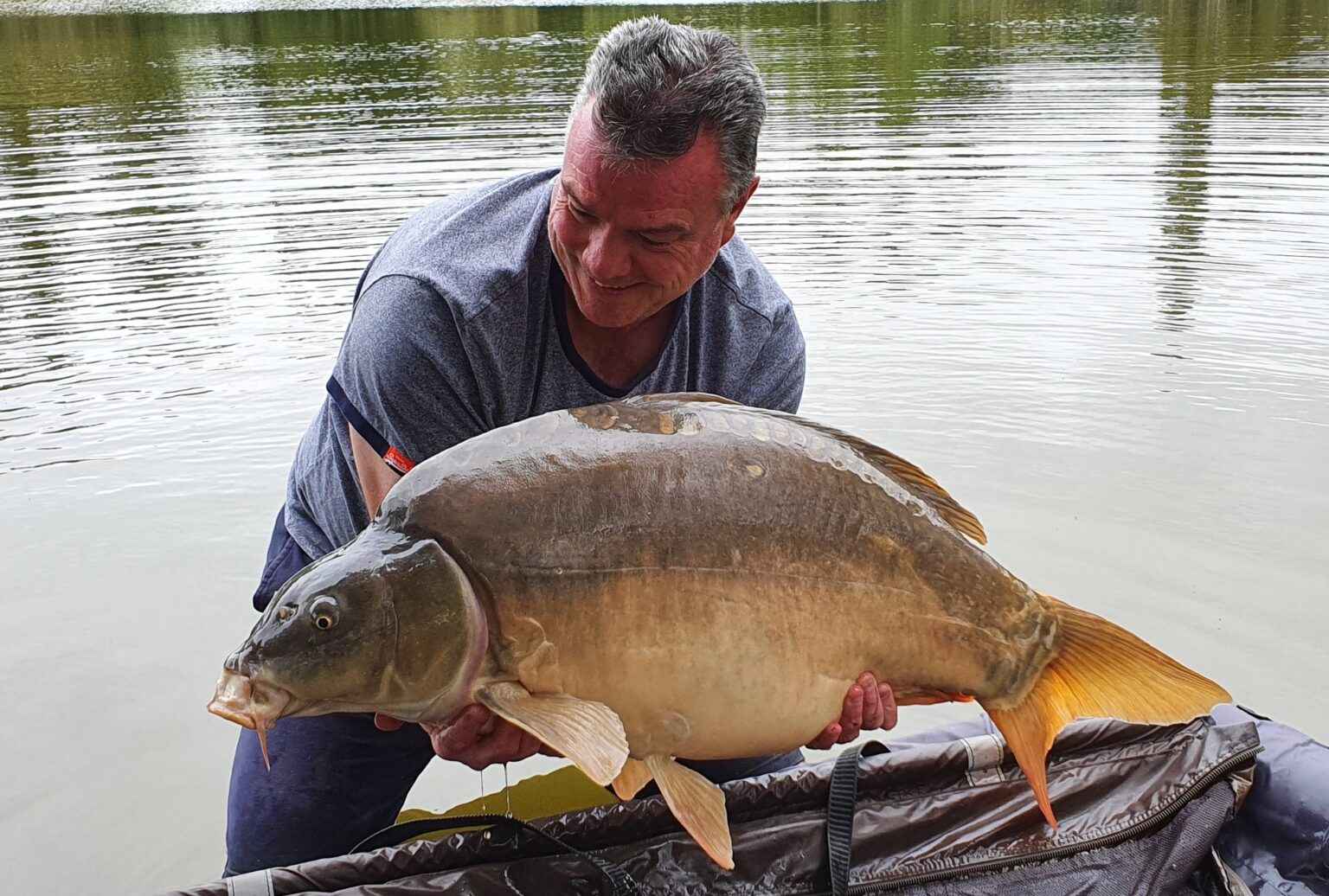 Accommodation & Swimming Pool
Guests have exclusive use of our modern fully equipped lakeside holiday cottage. Only thirty metres from and overlooking the lake, in a very private sunny location with oak woodland at the rear, the 65 square metre property sleeps up to 5 people, with two bedrooms, (bedroom 1 – double room. bedroom 2 – two single beds.) One large sofa can accommodate a 5th person.
Kitchen/living room with two double leather sofas, dining area, 40″ TV with SKY HD Freeview channels, DVD player and a 200 title DVD library. There is a good 4G signal here, and wi-fi is available.
Bathroom with large luxury shower, wash basin, heated towel rail and English W/C. Kitchen has fan oven, gas hob, extractor fan, microwave, dishwasher, toaster, kettle, fridge freezer, crockery, pans, cutlery and plenty of workspace and cupboard storage.
Cleaning products are supplied. The gite is double glazed, well insulated and remains cool in summer and warm in the cooler months with heating in all rooms. Fans are provided for summer use. Outside you will find a covered tiled terrace area with large modern gas barbecue, table and chairs and the lawns leading down to the lake. Next to the terrace is the heated swimming pool and adjoining sun patio complete with seating area, table and chairs and sun loungers.
The accommodation is maintained in immaculate condition and is thoroughly cleaned before every change over – you will find it in spotless condition on your arrival. Gas, electricity, water and bed linen are all included in the price that you pay.
The pool is open from mid-June to mid-September as this is weather dependant. The accommodation is completely independant with its own gated access, and is situated on the opposite side of the lake to the owners' house.
IMPORTANT
A maximum of 6 people are allowed on the site (4 adults two children). Fishing from the gite is not allowed – all anglers must stay with their rods in the swims at all times. The gite is a smoke free zone – smoking is not permitted inside. Bait must not be taken inside the accommodation. A freezer for bait is available and is located at the owners house.
Food Package
The Les Croix package offers clients a choice of delicious meals, all of which are prepared on site using only quality ingredients and fresh produce.
The price for the weekly package is 200€ per person (100€ under 10's) and includes continental breakfast and two course evening meal. The following items are provided for the duration of your stay ; Cereals, milk, croissants, toast, butter, sunflower spread, eggs, ham, cheese, chorizo, a selection of jams, yoghurt, fruit.
Please note that due to limited preparation time on changeover day on Saturday, either Chilli Con Carne or Spaghetti Bolognese will be provided, the Sunday meal will normally be a roast dinner unless clients specify something different.
One dish from the menu per day is prepared.
British Classics
1. Sunday Roast Roast corn fed chicken or loin of pork with all the trimmings – roast potatoes, selection of vegetables & gravy.
2. Chicken Casserole Hearty slow cooked chicken with carrots, peas and onions in a thick sauce, with creamy mash and green veg.
3. Ham, Egg and Chips Thick slices of succulent ham served with 2 fried eggs and chips.
4. Braised Liver and Onions Liver with carrots, slow cooked in a rich onion gravy served with mashed potatoes & petits pois.
5. Beef Burger & Chips Beef burger made from 100% prime limousin (0% fat) beef mince served in a bap with chips & salad.
6. Cottage Pie Prime Limousin 0% fat mince with peas and carrots topped with creamy mashed potato and savoy cabbage.
7. Traditional Beef Stew Slow cooked chuck steak with in a rich gravy served with boiled or mashed potato and green vegetables.
8. Pork Chop A succulent pork chop served with creamy mashed potato, seasonal vegetables and gravy.
9. Chicken and mushroom supreme Chicken breast and local mushrooms in a creamy white sauce, with creamy mash and seasonal green veg.
European Classics
10. Chicken Chasseur Whole chicken breast in a white wine and mushroom sauce, served with potatoes & veg.
11. Spaghetti Bolognaise High quality 0% fat minced beef in a traditional Italien style tomato sauce with herbs.
12. Sausage Casserole Basquaise A delicious, spicy, casserole with sausages, onions, and haricot beans in a paprika and tomato sauce served with creamy mash and seasonal green vegetables.
Spicy selection
13. Szechuan Chilli Chicken Chicken breast pieces in a rich spicy soy & yellow bean sauce served with egg fried rice
14. Chicken Balti Chicken breast, onions in an aromatic spicy indian curry sauce served with basmati rice or chapatis.
15. Chilli Con Carne Prime Limousin minced beef (no fat) cooked with plenty of chilli for a good kick! Served with basmati rice
16. Thai Red Curry A spicy curry cooked with red curry paste, coconut milk, red chilli and kaffir lime leaves, served with Egg Fried Rice Salads
17. Salads with the ingredients of your choice (ham, beef, cheese, tuna, smoked duck etc or half pizza) presented on a large bed of lettuce, cucumber, tomato, sweetcorn, and served with fresh crusty bread.
Examples of desserts included with Evening Meal – Cheesecake, Ice Cream , Chocolate Mousse, A selection of fresh French Patisseries – desserts are served with cream, ice cream, or creme anglaise.
Tackle & Bait
Bait Prices
Boilies 15€/1kg
Pellets 30€/10kg
Combi Bait Deal – 10kg boilies + 10kg pellets €180
Boilie Only Bait Deal – 20kg boilies €250
Big Bait Deal – 20kg boilies + 30kg pellets 300€
Advisory Note: Aside from angling ability and the variable feeding response of the carp, insufficient baiting is often the reason for poor catches. Discounted bait deals are offered with the intention of encouraging anglers to use more bait during a weeks visit which in turn should see more fish caught. Bait deals are supplied on the basis that all bait will be used on site during the holiday when it is purchased. For this reason bait purchased as part of a deal can not be taken off site, but can be stored here for future trips.
Tackle Prices
Tackle hire is available to all anglers. If you are short of space in your vehicle, or for any other reason, individual items of tackle can be hired for one week at the prices shown below.
Please advise us of your requirements when you make your booking.
Nash 2-man bivvy – €40
3 x Nash Entity/Pursuit Rods 12 ft 2.75lb t/c – €45
Nash Stainless 3 Rod Pod – €10
Nash 3 leg Bedchair – €30
Nash Recliner Low Chair – €15
Reuben Heaton Digital Scales – €15
Thigh Waders – €10
Free Spirit Marker Rod + Daiwa marker reel – €30
Clients take responsibility for any damage to hired items and any damages paid for. A deposit is required.
Map & Directions
Rules
Rules may be subject to change. Please check you fully understand the rules prior to fishing.
Booking & Prices
1 Angler + 1 Guest (FOC) £1,800 per week
Additional angler + £200 per week additional guest + £100 per week
Maximum number of people per booking is 4 (2 anglers maximum)
Clients can arrive any time after 15:00 on Saturday, and are asked to vacate the site before 10:00 on the day of departure. If you are going to arrive after 18:00 please call in advance to let us know.
A £200 damages deposit will be required to be paid by bank transfer before arrival – This will be refunded after the holiday has ended (subject to terms and conditions).
To check availability or for booking information complete the form below: