Private Carp Fishing Lakes in France with Accommodation.
A mature and intimate venue with carp to 50lbs, available on a lake exclusive basis.
Facilities & Information
Situated in the lower Normandy region of France, Etang des Petits Chiens is one of the most secluded and intimate venues you're ever likely to visit. If you're looking for a peaceful, tranquil and lake exclusive carp fishing holiday in France then look no further.
This naturally matured fishery is surrounded by woodlands and fields on a 10 acre private estate. The lake is 2 acres in size, was stocked in 1970's and has approximately 100 carp with the largest known resident currently weighing 50lbs.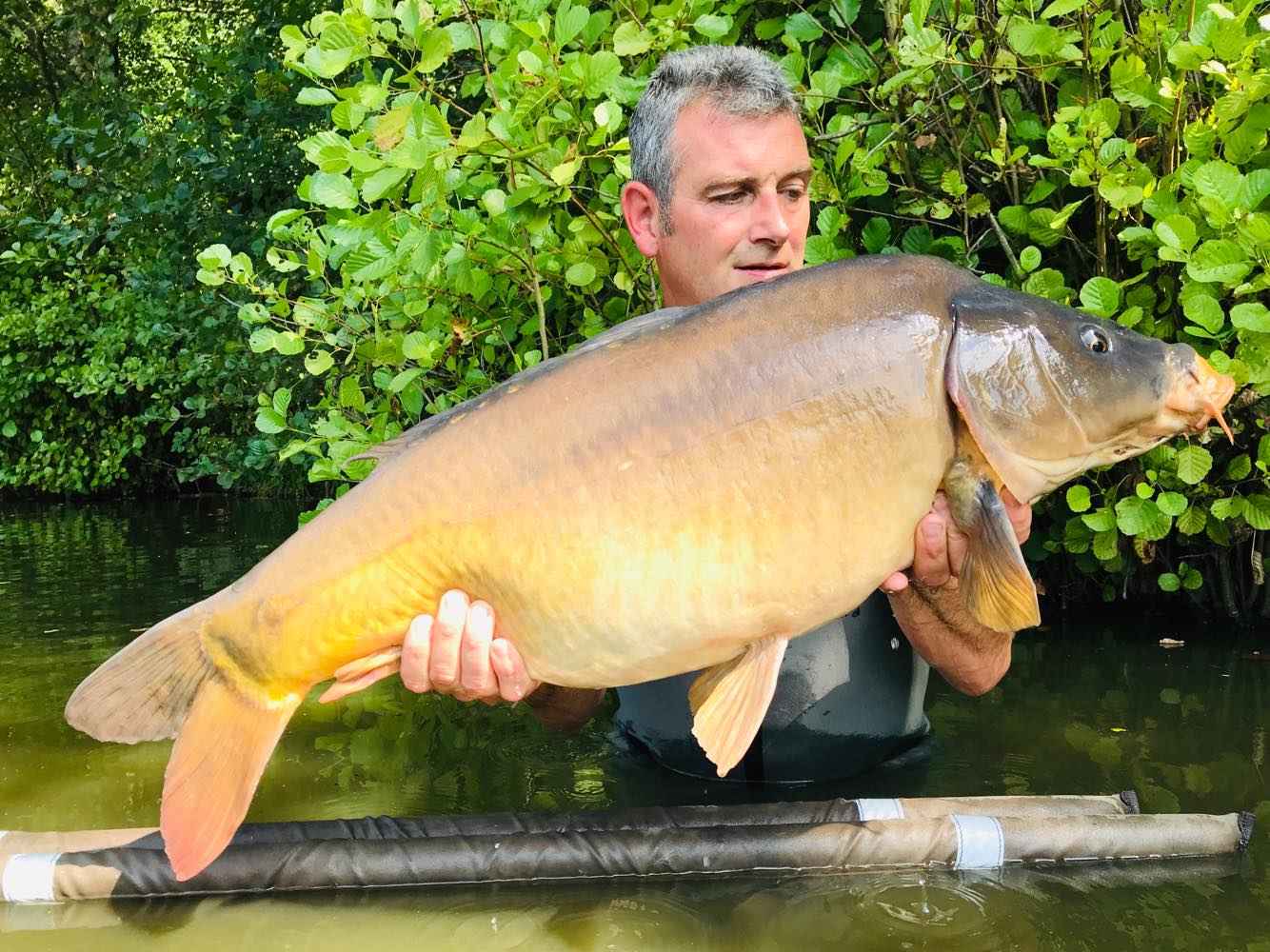 A short hop over the channel will see you drive approximately 1hr 30 minutes from Caen or approximately 4 hours from Calais, depending on your chosen route, before you can get the rods out.
Accommodation includes a newly refurbished annexe with kitchen, bathroom, sitting room, toilet, shower, fridge/freezer, kettle, toaster, microwave, two hobs and a BBQ area. Other amenities include TV, DVD player, comfy sofa bed and storage space. Compared to the usual bivvy, it's fair to say, you'll be living in luxury during your weeks stay.
Food Package
Breakfast and evening meals are available as a food package from £110 per person. The local town of Domfront is only 15 min drive away should you wish to stock up on nibbles at the local supermarket.
Bait & Tackle
Whole maize €3.50 per 1kg
Crushed maize €3.50 per 1kg
Hemp €3.50 per 1kg
Pigeon conditioner €3.50 per 1kg
Map & Directions
Rules
The size of the venue warrants a restriction on the number of rods anglers can use. There are a maximum of 3 anglers fishing 3 rods each.
Minimum of 15lb main line, no braid.
No leadcore.
Micro barbed or barbless hooks only. No bent hooks or long shank hooks.
No fixed lead. Lead clips system can be used. Please ensure lead can be ejected in the event of a breakage.
Only use nets, weigh slings and cradles provided provided by Etang des Petits Chiens.
No sacking of fish.
Only branded frozen boilies to be used.
All bait brought to our fishery must be in its original, unopened packaging.
No plastic baits.
No nuts of any kind.
No Halibut pellets or any high oil baits of any kind.
Rods not to be left unattended at any time.
No fires.
Cigarette ends to be disposed of correctly.
No swimming in the lake.
Respect all nature in the surrounding area.
No surface baits.
Handle fish with care and respect.
Rules may be subject to change. Please check you fully understand the rules prior to fishing.
Booking & Prices
Bookings are from Saturday to Saturday.
Prices are from £800 per week lake exclusive.
To check availability or for booking information complete the form below: