Carp Fishing Holidays in France with Accommodation.
Lac Charmant has an impressive stock of big carp with roughly fifty 50's, six 60's and four 70lb+ carp.
Facilities & Information
Lac Charmant is an established big fish venue near the city of Limoges in southwest-central France. With an average depth of 6ft across 10 acres of water, and 6 anglers during any given week with 8 spacious swims, you've got plenty of water to go at.
When Jim initially purchased the lake there was an estimated stock of 400 to 600 fish, including a mixture of mirrors, commons, leathers, linear and fully scaled carp. Some of the smaller carp under 35lb were removed and it's fair to say the growth rates of the remaining stock have rocketed! The carp now have an impressive average weight of 40lb+, which is testament to Jim's fishery management skills.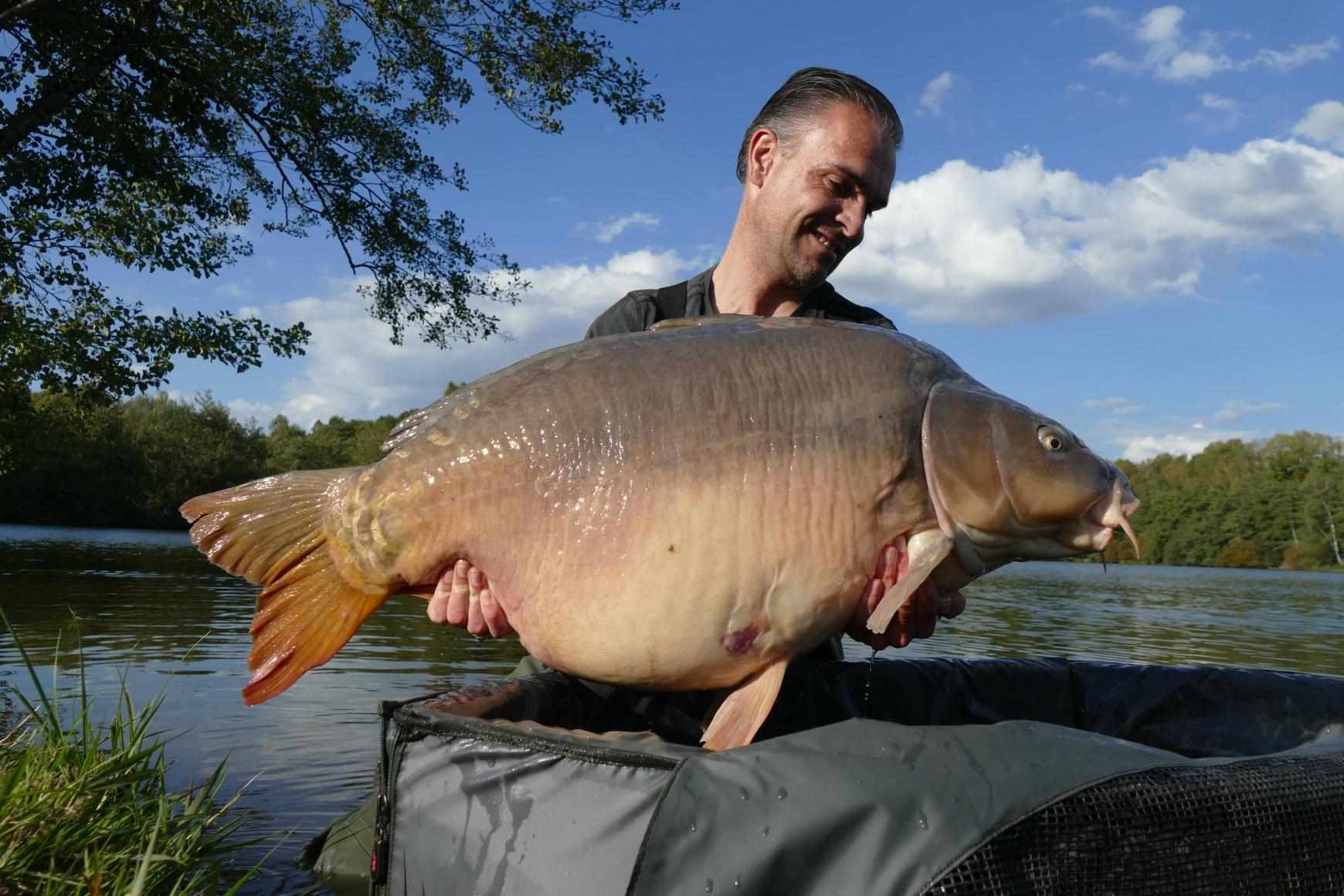 The facilities include constant hot water and two modern shower and toilet blocks. The bait freezer, electric, drinks cooler, microwave, electric kettle, and cutlery are all located in the anglers shed. On the rare occasion you're struggling to get a bite you can always ask the advice of the fishery manager, who's on site 24/7.
Within a very short distance is the village of Dournazac, offering a break from the fishing, shops for everyday basic needs and lots of beautiful places to visit.
Caravan Accommodation
On site we have two 4 berth caravans with internet basic Sky TV and Kodi boxes for films.
Food Package
The food package not available at Lac Charmant. The local supermarket, bakery and local town are only a couple of miles away from the lake.
A daily delivery of baguettes, croissants and pain au chocolat can also be arranged with the local bakery.
Tackle & Bait
Tackle Hire (Prices per week)
Bivvies €50.00
Bedchairs €40.00
Guest chairs €20.00
Rods €50.00
Rod pods €15.00
Scales/Tripod €10.00
Tables €5.00
Bait
Boilies €8.00 per kg
Pellet
Hemp
Maize
Additional tackle hire, bait, food packages, accomodation and airport transfers are to be discussed prior to your arrival.
Map & Directions
Lac Charmant is approximately 5hrs 20 minutes from the port of Caen, 7hrs 20 minutes drive from the port of Calais or, if you prefer to fly, 40 minutes drive from Limoges
Airport. We're happy to arrange airport transfers where required.
Rules
Let us know if you snap off. Our fish's safety is most important.
No pre-booking of pegs. Lots will be drawn if an agreement can not be obtained. However if you book a caravan you can fish the peg associated with it.
It is compulsory to scan all fish and record the last five numbers wherever possible, if you cannot find the tag, please call us on the radio, all fish over 50lb must be checked by manager on site, all fish over 60 must be checked and verified then It can be named if it does not have one.
Barbless hooks only crushed barbs are not allowed.
No bent hooks of any kind.
There is a boat on site it is not for personal use in case of emergency please talk to manager.
No nuts (peanuts, tigers etc.) cars will be checked if nuts are found you will be asked to leave.
No braided mainline except for spombing.
Maximum 15lb line (Please not this is maximum, not minimum.)
Strictly no sacking of fish.
All fish must be weighed and photographed in the water and released as soon as possible .Weigh and scan fish before taking pictures as we have had fish lost by taking pictures first and did not get the weight or number
The use of medicarp or similar is compulsory.
Rods must be attended at all times.
Bait boats are allowed with the discretion of the bailiff or site manager.
Only particles purchased on site may be used.
Swimming is strictly prohibited.
Safe rigs please, think of fish welfare at all times. Leads must come off easily if you are snagged (Manager or Bailiff may check rigs at any time). No ronnie rigs.
Rig tubing must be used.
Controlled alcoholic drinking and Gentlemanly conduct is expected and required. Drugs are not allowed.
Three rods maximum per angler per peg.
Arrival is Saturday 12.00pm. Departure from swim on Saturday is 10:00am.
The use of livebait is forbidden except if it is caught from our lake due to possible cross contamination of disease
Children under 16 do not fish, Under 18's must have adult supervision at all times.
No shelf life bait, only fresh
The peg beside the house is out of bounds and private but can be fished at anytime (even if you have lake exclusive) by the owner or family. But if the owner is not on site it maybe fished with the consent of the Manager. Also disabled anglers may be allowed to fish it.
All rubbish must be separated and put in the bins provided.
Please do not use the bushes as a toilet at peg 8/9 we check this every.
No artificial baits of any kind. Fake maize etc…
All nets must be dry before use
Rules may be subject to change. Please check you fully understand the rules prior to fishing.
Booking & Prices
Bookings are from Saturday (12pm) until the following Saturday (10am).
Prices start from £325 per person.
To check availability or for booking information complete the form below: