If you haven't heard about Ian Burton's big carp haul from Euro Aqua then where have you been!
Carp Social were lucky enough to meet with Ian during his first trip to the venue back in May of this year and don't get me wrong, he caught his fair share of carp then, but his November session was out of this world!
"To think I very nearly didn't go because my friend who I was going with told me the night before we was due to leave that he couldn't go due to family related issues. This left me with a massive problem because you can only fish in pairs and no way was I going to be able to get someone else at such short notice.
On a off chance I rang Jacqueline at Euro Aqua and told her my problem and her boyfriend Michel Schumacher, the current world record holder, agreed to fish with me. On this basis I set off from Dover and undertook the laborious 20 hour plus drive to Hungary dragging a trailer on my own!!
I had 10 nights fishing in total.
I personally caught 71 x fish in total:
2 x double's
7 x 20's
14 x 30's
24 x 40's
9 x 50's
7 x 60's (61,63,63,64,65,67 & 68)
4 x 70's (72,77,79 & 79)
2 x 80's (82:12 PB common & 87)
1 x 91
1 x 105lb 14oz (New PB and the biggest carp ever caught by a UK angler).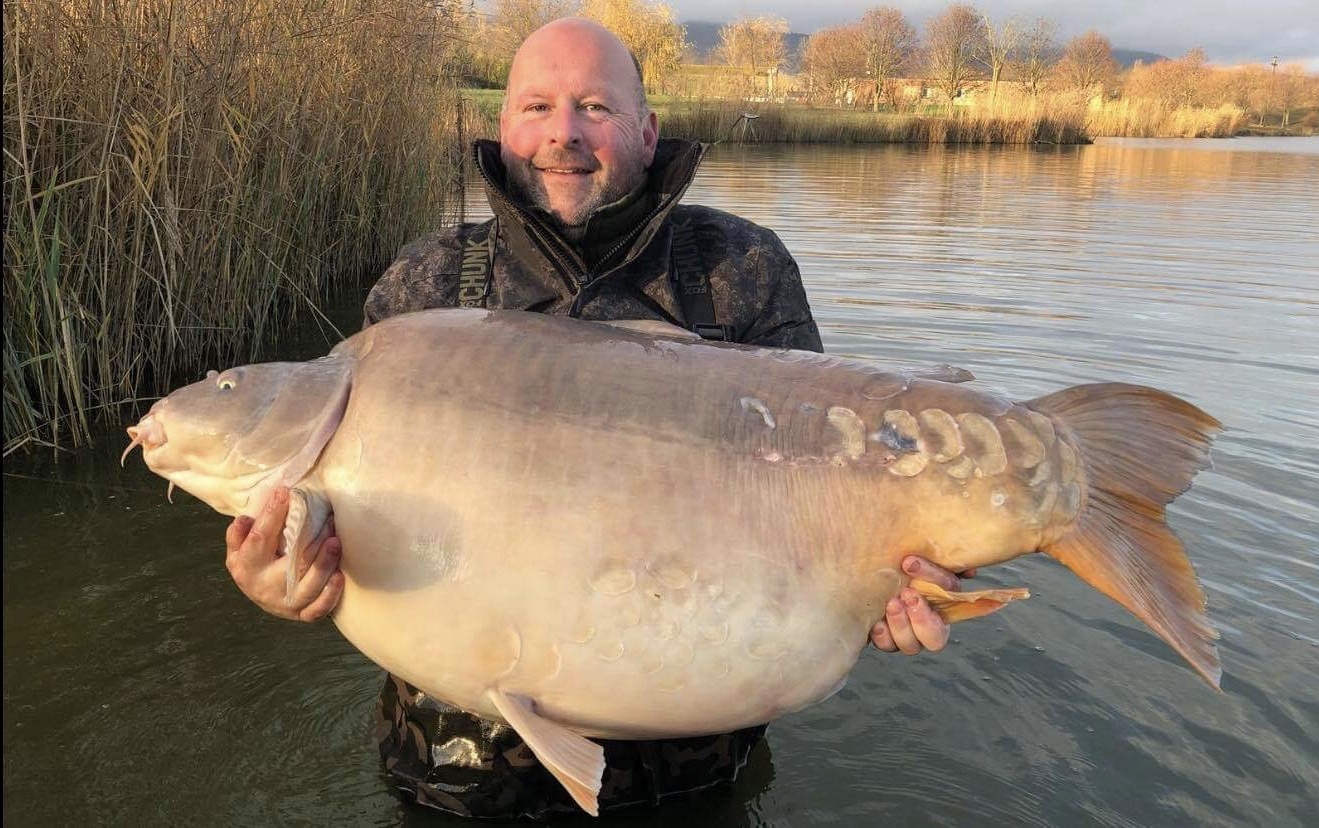 The 105lb carp was the only fish to give me a one toner from my 10 nights angling, the other takes were very shy with bobbins just lifting and dropping back, just like a bream bite.
The 105lb fish was extremely hard fighting and not just a heavy lump, we had at least a 5 minute stand off trying to hold it from getting into a snag that was in the water at roughly 90 yards distance from the swim. It took approximately 20 minutes to land the fish!
I knew what fish it was when it rolled about 30 yards out from the swim because Michel was standing with me waiting to net it. The scales towards the wrist of its tail are very distinctive.
I obviously became nervous at this point knowing I was potentially about to beat my PB again for the fourth time this year. Being my 10th carp caught over 80lb I managed to keep my cool and get her in the net on the first attempt.
I used a Mainline Baits Diamond white pop up on a Ronnie Rig to catch the big girl, the other fish were taken on a combination of Diamond White & Essential Cell pop ups also on Ronnie Rigs.
For the 10 nights I got through 500kg of hemp & 50kg of boillies. I understand people think this to be massively excessive but given the amount of carp in Euro Aqua, it really isn't.
At the start of the year my personal best carp was 87lb 4oz. I've broke my PB four times this year from a variety of venues including fish of 88lb 12oz, 89lb, 91lb then 105lb 14oz."