This months article is a bit of a "hot topic", pun fully intended, in the angling scene.
I've noticed various posts over the last couple of weeks on social media about this subject. Some from reliable and accredited sources, some not so reliable…or accredited.
When you start running a fishery there isn't a handbook that comes with the job. You have to learn as you go along and the advice I've found online and from speaking to friends "in the know" has been extremely useful. In fact I'd like to take a moment to say THANK YOU to Ben, Mitch and Gary for their guidance and support to date.
As an average angler, it's not typically something you'd think about when you go fishing. So unless you know about it, you wouldn't know about it! If that makes ANY sense whatsoever!
So, whilst scrambling around to find a subject for June's issue of Carp Social. By chance, I've landed on the topic of oxygen levels. However that sounds a bit boring and nerdy, so I'm running with the title "Oxygen Carp Crash" to liven things up a bit.
I should point out this post should not be deemed as advice, or 100% accurate, however I hope it helps someone out there, be that a member of a fishing club, syndicate or someone new to fishery management. Also, rest assured, no fish were harmed in the making of this article.
Anyway, I've been helping run a carp syndicate in Essex since May this year. The lake is approximately 25 acres in size, has 17 swims and a stock of approximately 200 carp weighing anything between 20lb – 35lb. I've chosen to talk about this venue because it has suffered from oxygen crashes whilst under different management. Which is surprising considering it's a big expanse of water and, on a bad day, looks more 'wind swept' than your average L'Oréal shampoo model!
However with the correct strategies and preventative measures, I'm sure oxygen crashes will be a thing of the past for this venue.
Now, you'll be forgiven for thinking fishery management is as simple as chucking some fish into a lake, selling some memberships and chilling out on your Sunseeker yacht for the rest of the year!
Ohhhh, no! In a short space of time, and with a small team of volunteers, we've setup boi security dip tanks, fixed rowing boats, fed feed bait, sold memberships, installed a toilet, built a website, arranged work parties…the list is endless…
Finally, once you think you've got everything out the way and your in the clear…dissolved oxygen levels creep onto the picture!
Most species of course fish need above 7mg/L of dissolved oxygen to thrive.
Between the months of July, August and September there is a real risk of fish deaths caused by low dissolved oxygen levels.
Hot weather increases water temperatures and as the water temperature increases, the amount of dissolved oxygen in the water decreases. If it decreases enough then the fish will start to die.
In September and in some instances October weed beds begin to die off. Weed beds are one of the main producers of oxygen during the day, so as this dies off, naturally the oxygen levels can drop as well.
Symptoms of an oxygen crash can include, dead salmon, grayling or trout, floating on the surface, as these will be the first to die. The next most sensitive species are pike, barbel and chub followed by small silver fish and finally eels and carp.
Small fry leaping on the surface or fish gasping on the surface are signs that things are on the edge and something needs to be done ASAP.
An obvious change in the pigment of the lake water. e.g from clear to a pea green colour is a sign of an algae bloom. Whilst algae does produce oxygen during the day it depletes oxygen during the night and this can lead to a crash.
The change in water clarity caused by algae can also prevent other plants from producing oxygen during the day as the sunlight can't penetrate the soup like green water.
In addition to this, when it rains heavily the algae dies and sinks to the bottom of the lake where it is broken down by bacteria. As the bacteria thrives on the new food source they require more oxygen and it's this that causes a sudden oxygen crash.
The "danger zone", or time a crash is most likely to happen is during the early hours of the morning. Which makes sense if you think about it because, due to the lack of sunlight, its the longest period since any plant life's been able to produce oxygen.
Another "danger time" so to speak is when atmospheric pressure falls very rapidly. This typically happens during a storm. Oxygen diffuses from the water into the air resulting in a oxygen crash which could wipe your entire lakes stock.
With temperatures hitting 38C last week and thundery storms rolling in, these were ideal conditions for a oxygen crash. There were several instances where the Environment Agency were called to fisheries to install reactive measures such as aeration units or an injection of hydrogen peroxide to artificially increase the oxygen in a lake.
As always if you see dead, dying or distressed fish then alert the EA by calling their incident helpline on: 0800807060
However, there are precautionary measures fishery managers can take to significantly reduce the risks of an oxygen crash.
Taking regular readings with a dissolved oxygen metre or DO metre will give you advanced warning of an oxygen crash giving you time to make the necessary improvements to prevent a crash from ever happening.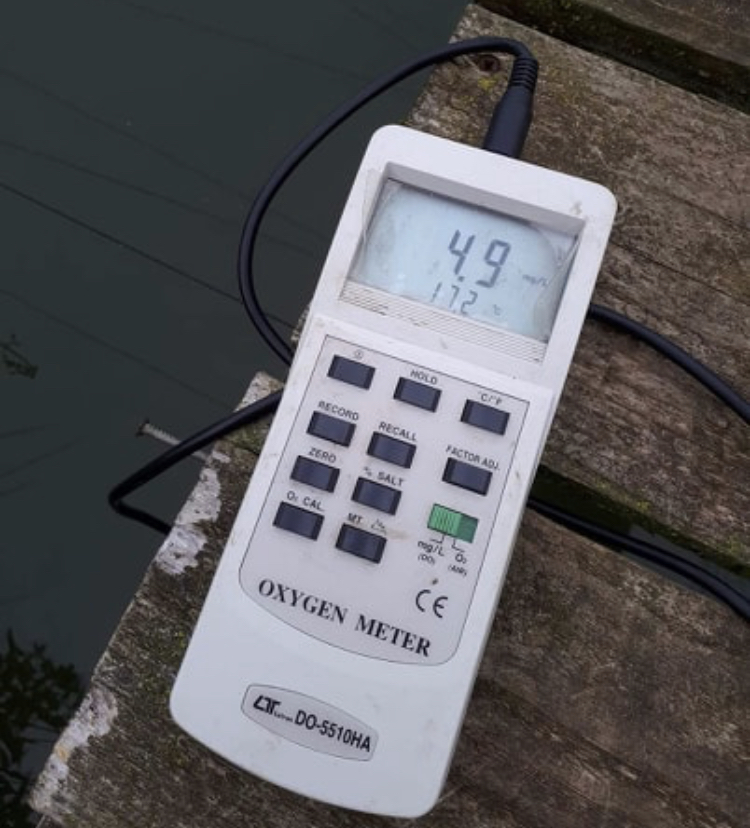 Installing barley straw bales during the Spring time (March) will reduce the chances of an algae bloom.
Installing an aeration system will help to oxygenate the water.
Why not reduce the number of fish in the lake? Pretty simple one this one really. The smaller the biomass in the lake the less demand there is for oxygen.
Applying Siltex in the winter time to silty areas of the lake can help. Siltex is a softer and more soluble type of chalk which can help to dissipate unwanted organic matter, improve water quality and boost the food chain. Using a product of greater particle size will not be as efficient and beware of cheap inert limestone imitations. Siltex is a highly porous form of chalk, made up of minute particles that can entrain oxygen back into the silt body. 
If your fishery received a large amount of bait then Siltex is a good idea as it will break down the bacteria feeding on the decomposing bait.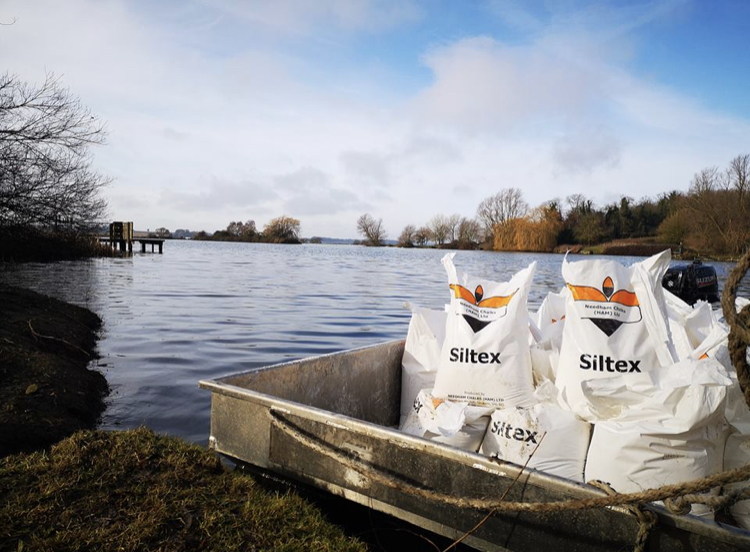 So, there you have it. Everything I've learnt to date about managing a fishery when dissolved oxygen is at its lowest.
Contact AJS Fisheries for DO Metres, Siltex, Bio VX and other fishery management products.