Carp Fishing Holidays in France.
Le Grand Pierre holds carp to 76lb, with three know 70lb+ fish swimming in its depths.

Le Grand Pierre is situated near the town of Nancy in France which is approximately 5hrs drive from Calais.
Just a stones throw away from the river Moselle, this picturesque 30 acre gin clear gravel pit holds carp to 76lb, with three know 70lb+ fish swimming in its depths. Numerous 40's, 50's & 60's are also present so you can be sure you'll get plenty of action during your weeks stay.
Le Grand Pierre has approximately 20 pegs on the lake. Each swim has enough space for a bivvy with overwrapp, a concrete bench which is perfect for cooking, tying rigs and socialising. There's also a sturdy weighing hook provided to help you weigh these humongous French carp should you be lucky enough to catch one.
Exclusive to English anglers, with a maximum of 12 people fishing at any one time, you've always got the option to move swims should you wish.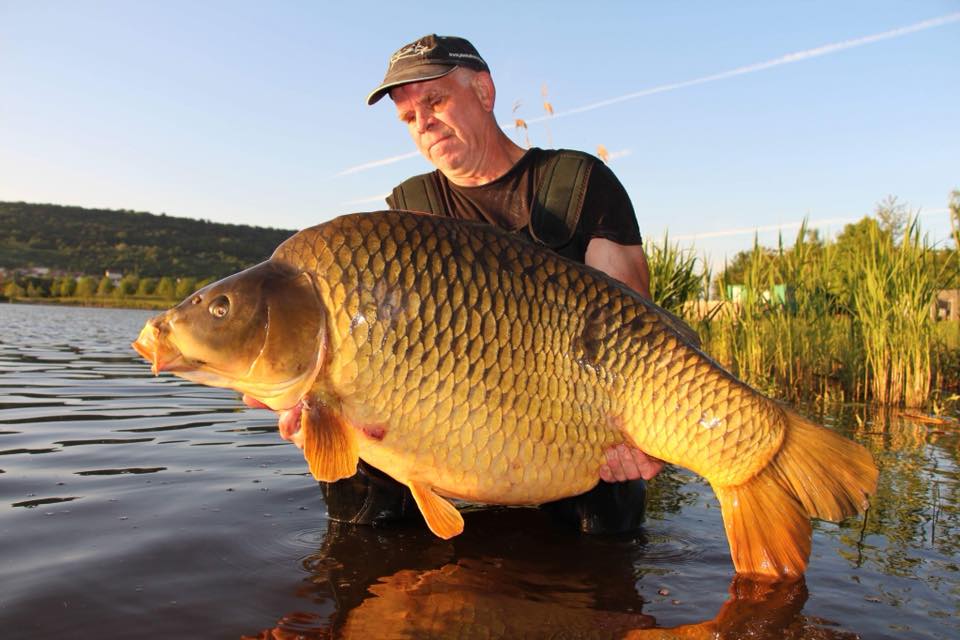 Facilities & Information
On site you'll find a cabin, toilet, warm shower, secure parking, sockets for recharging batteries, freezer facilities and one of the best food packages available in France!
There is easy vehicle access all around the lake which makes the task of setting up or changing swims that little bit easier.
When you arrive at Le Grande Pierre you will meet Daniel, the owner of the lake. Whilst Daniel is a good cook he is also a very  good angler and will always help you regarding bait, rigs and where to fish. The draw for swims is on Saturday at 13:00 (French time).
Food Package
The food package is €150 per person and is available from Saturday – Saturday. This includes an English style breakfast and evening meal. Breakfast, tea and coffee are all served in the cabin and your evening meal with drinks are delivered to your swim.
Breakfast Menu:
2x Sausages, 2x eggs, 2x rashers bacon, beans and tomatoes
Bread, butter, tea, coffee & orange juice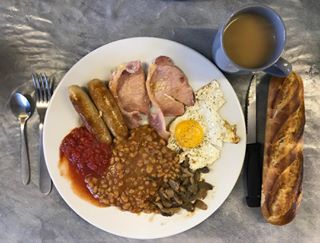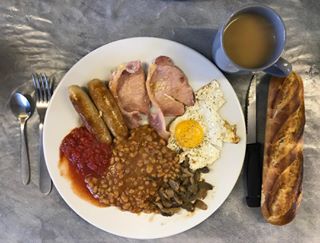 Evening Meals:
Saturday: Cold meats as starter – Spaghetti bolognese for main – Cheese with banana for desert
Sunday: Chicken leg, rice with peas and carrots for main – Cheese cone for desert
Monday: Quiche to start – Pork chop, mashed potatoes and green beans for main – Cheese, chocolate mousse for desert
Tuesday: Beef burger, chips and vegetables for main – Cheese, ice cream for desert
Wednesday: Ham, chicken breast, cauliflower, sauté potatoes for main – Cheese, fruit cocktail for desert
Thursday: Cold meats to start – Shepherd's pie for main – Cheese and yogurt for desert
Friday: Crudités (tomato, boiled eggs, mayo etc) to start – Merguez Sausage, chicken, chips and green beans for main course – Cheese. Ice cream with chantilly cream for desert
All breakfast and evening meals are served with a warm french bread stick.
If there are any evening meals you don't like then speak with Daniel in advance and he will cook Steak and Chips, or Chicken and Chips as a substitute.
Drinks such as beer, coke or water are included with your evening meal. Packs of beer and bottled water are available to order. It is not advisable to drink the tap water.
Map & Directions
Here are the directions to Le Grand Pierre from Calais.
Rules
Three rods per angler
No Boats or Bait Boats
Minimum 12lb breaking strain mainline
Rules may be subject to change. Please check you fully understand the rules prior to fishing.
Booking & Prices
Prices start from £330 per person. This is paid in three installments.
£100 deposit payable within 7 days of booking.
£100 payable three months before your holiday date.
£130 payable in Euros (€150) to Daniel upon arrival.
Bookings run from Saturday 13:00  – Saturday 10:00.
To check availability or for booking information complete the form below: