Lakes in France with Accommodation.
Lac Claudette nestles down in the heart of the Mayenne countryside, surrounded by fields, woods, and the chatter of birds and nature.
Facilities & Information
Lac Claudette is a 7 acre gravel pit with crystal clear waters, located near the village of Ballots. The lake is home to 200 carp up to 60lb and one large catfish in excess of 120lbs. The lake hosts 6 swims and we allow 5 anglers to fish the lake at anyone time.
Lac Claudette is a typical spring fed gravel pit, like a bowl in shape, with many features and a good variety of depths ranging from 40 feet in the middle to 10 feet or less on the plateaus and 2 feet on the far bank margins.
The surroundings of the lake are well maintained without affecting the rugged, natural look that makes Lac Claudette as tranquil as it is. The far bank has steep sloping sand banks with plenty of overhanging bushes. The main fishing bank is set among many gorse bushes with a number of bays. The bay to the right is extremely peaceful and provides great stalking opportunities, whilst beyond to the left there are many overhanging bushes where wary fish could be holding up and feeding.
Accommodation
By the lake there is the fisherman lodge which sleeps up to a maximum of 3 people. The accommodation comprises of one double bedroom, fully fitted kitchen, with cooker, fridge, sink and lounge with sofa bed. Attached to the lodge is a brand new shower block and also separate toilet block.
Food Package
We do not offer a food package at Lac Laudette however the lake is located within a few miles from the nearby town Ballots (in the Mayenne Departement of Northern West France,) where there are a couple of supermarkets, bars, shops and restaurants, making the ideal place to get out and about for a couple of hours during the week. Close by are the towns of Craon 9kms, Cosse Le Vivien 6 kms, Livre La Touch 6kms. Chateau Gontier (large town on the banks of the river Mayenne) 30kms.
Bait & Tackle
Bait Boat is available for 100 euros per week.
25 kg premium pellets for 65 euros
25kg cereal based pellets for 35 euros.#
Gallery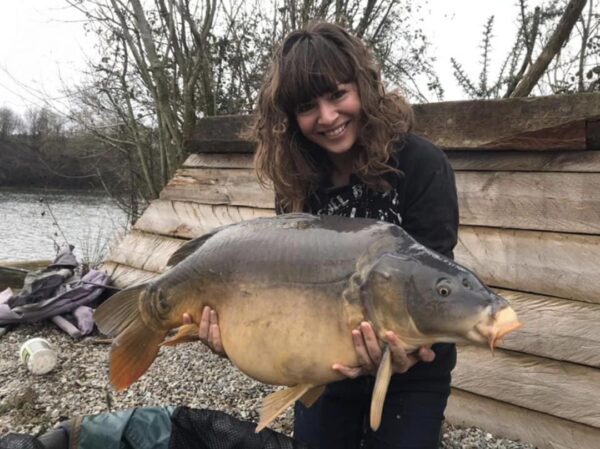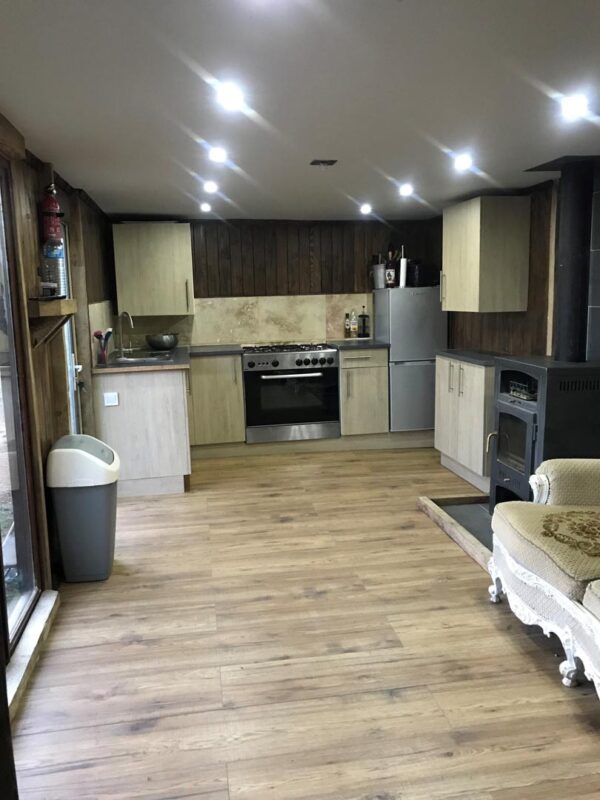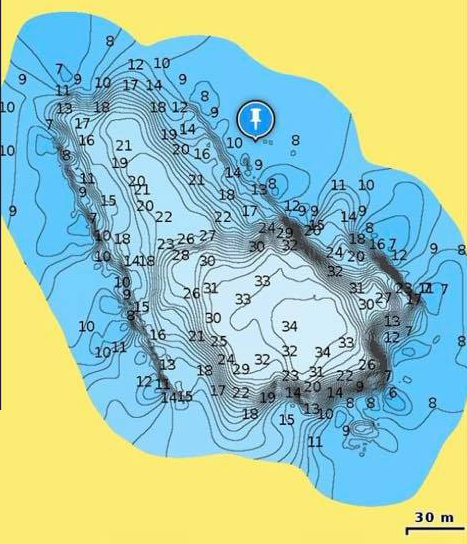 Map & Directions
Here are the directions to Lac Laudette France from St Malo. The drive from St Malo takes approximately 1 hours 40 minutes, from Caen it's 2 hour 22 minutes and from Calais it's 5 hours 15 minutes.
Rules
You may use barbeque but no fires except in dedicated fire pit.
Use of outside toilet and shower is available to all. Please follow rules laid out on walls and ensure careful use of the facilities. Any damage or problem, please advise owner immediately.
Use of the cabin is subject to additional fee. Rules for this usage are clearly listed in the cabin, and careful use of this facility including kitchen facilities is a pre-requisite of return of security deposit of 150 euros at the end of your fishing holiday. Any damage or problems should be reported immediately.
Fishing Rules
Number of anglers on the lake limited to 6 (excluding child under 12 with parent). Maximum of 3 rods per angler.
Children are not to be left unattended around the lake.
No rods to be left unattended.
No sacking of fish or retaining. Retainers however should be used when removing carp from Lake to wet mat.
No swimming, wading is encouraged only to release fish.
Only on-site landing nets, slings and mats/cradles to be used, all provided upon arrival. Mats to be soaked prior to fish being placed on them. All carp above 50lb to re reported to Bailiff.
Minimum line 15lb/7kg breakage.
No braid as main line.
No lead core or leaders to be used.
Only tubing to be used. If you're unsure it will be available on site and instructions on how to use it.
Bait boats are allowed or can be hired.
No long shank, nailer, bent, circle hooks.
Barbless hooks only.
No fixed leads, all rigs must be safety rigs, ie eject the lead. If in doubt, please ask.
All rigs will be inspected.
No shelf life boilies. No plastic baits. No nuts.
You are welcome to bring your own fresh or fresh frozen bait. The health of our fish and lake is very important to us so no shelf-life boilies or tiger nuts please. However, we are offering our bait at competitive prices and this can purchased on site saving you money and carrying it here. Particles must not be brought onto site but are available to purchase by prior arrangement.
Please don't stand up with fish when being photographed.
Please return fish to the water as soon as possible.
Keep cradles and mats wet as in the sun they can become very hot.
You must treat hook holds or treat any hook holes or wounds with a carp care product (Steri Seven or similar). This will be available on site.
No marking, disfiguring or damaging of the fish in any way (you will be asked to leave the site without refund or compensation).
No removing fish or introducing fish.
Please photograph all carp on both sides and weigh before returning to water.
Please send all photographs and weights of fish caught to us as this allows us to keep accurate records of fish health and weight. We'll set up a WhatsApp group with you for this.
Night fishing is allowed without permit.
Environment Rules
No litter, including cigarette ends, matches, tea bags, nylon line etc. To be deposited on site Please take it home with you. However, there will be bins for glass, plastic and bottles on site. Use bins provided.
No fires except in designated fire pits).
Alarms – please set them to their lowest volume or have a receiver.
Radios and televisions – please set the volume so that you can hear it.
Respect the wildlife.
Respect each other and the owners and their representatives.
Please don't use the bushes or trees as toilets – facilities are available.
No recreational drugs or excessive alcohol consumption (you could be asked to leave the site without refund or compensation).
No aggressive or antisocial behavior (you will be asked to leave the site without refund or compensation).
You can bring to the Lake a caravan or mobile home, and this can be located safely just by your swim, giving you the ideal set up.
Rules may be subject to change. Please check you fully understand the rules prior to fishing.
Booking & Prices
Bookings are from Saturday 14:00pm to Saturday 11:00am.
Prices are from £1,100 per week lake exclusive.
To check availability or for booking information complete the form below: